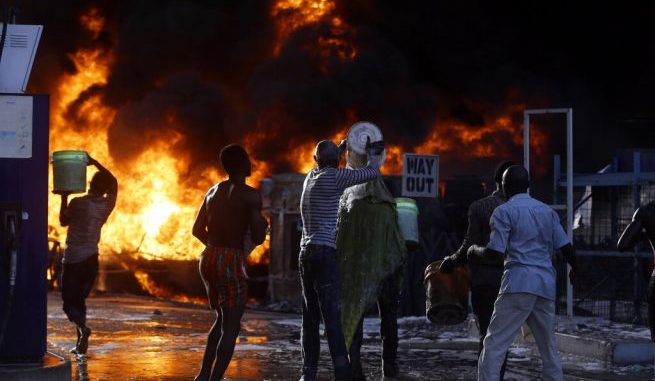 OAN Newsroom
UPDATED 12:48 PM PT — Saturday, May 2, 2020
A fuel tanker explosion killed one and injured at least 16 others in Nigeria this week. The blaze erupted outside a petrol station in Lagos on Friday.
Firefighters quickly rushed to the scene, where they said the truck collided with another vehicle before going up in flames.
"What happened was that the tanker that carried about 9,000 gallons of fuel fell down," explained Fire Chief Ganiyu Olayiwola. "As a result of that, the fuel was gushing out and it exploded."
"Unfortunately, the inferno has resulted in a single fatality, fifteen minor casualties and one major casualty, who happens to be a Lagos State Firefighter," stated Olufemi Oke-Osanyintolu, the Director General of the Lagos State Emergency Management Agency (LASEMA). "He has been subsequently transferred to the Lagos State General Hospital for treatment, while minor casualties received on the scene medical attention."
According to officials, the flame has since been extinguished and an investigation has been launched to determine the cause of the crash.