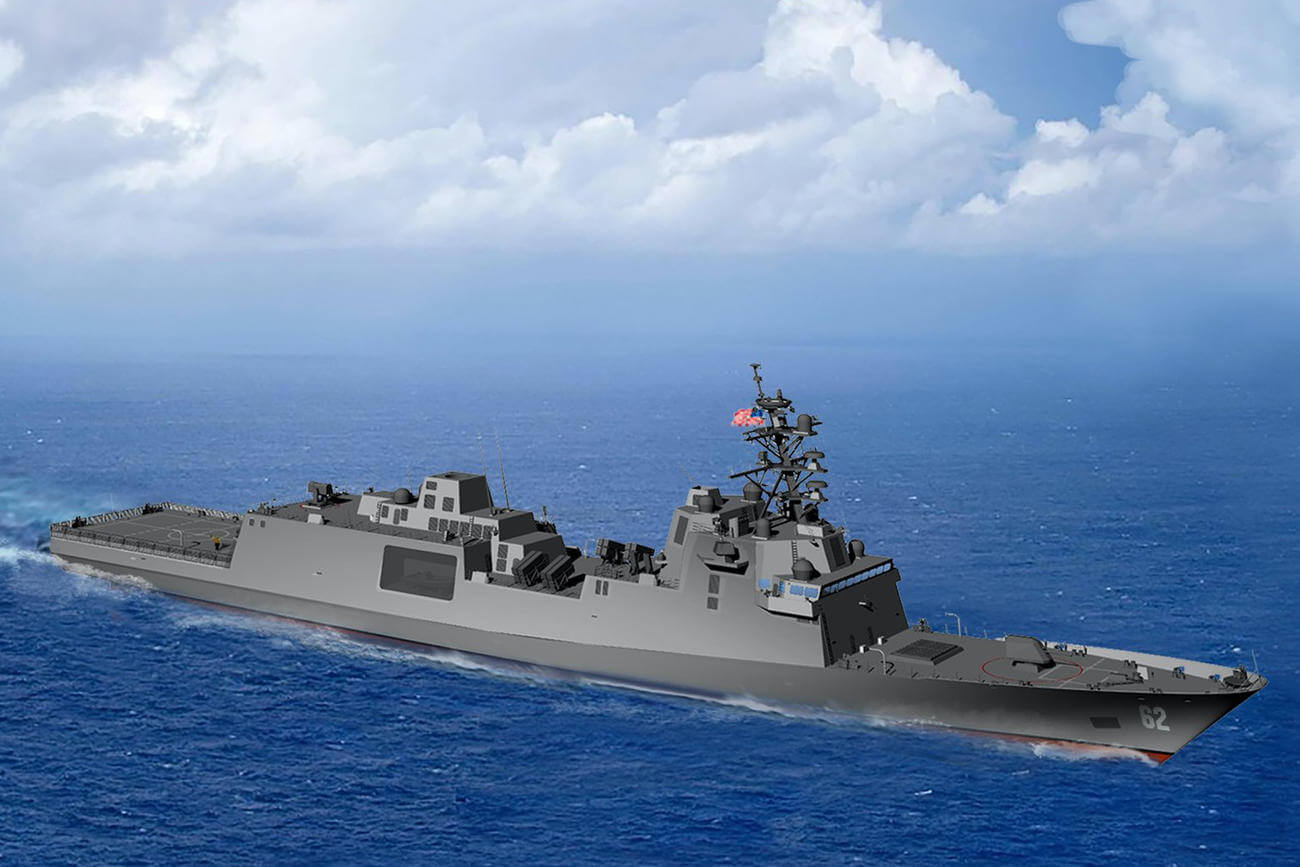 The Navy on Thursday awarded a much-anticipated $795 million contract to a Wisconsin-based shipbuilder to begin production on the first of the service's next-generation small-surface combatants.
Fincantieri Marinette Marine won the contract to design and build the first of the new guided-missile frigates. The contract also includes plans for up to nine more ships from the firm — a deal that's ultimately worth more than $5.5 billion.
"The frigate will be an agile multi-mission warship," James Geurts, the assistant secretary of the Navy for research, development and acquisition, told reporters after the announcement. "They'll operate in all environments and will be more lethal, survivable and have increased self-defense and local-area defense capability and capacity over previous small-surface combatants."
Related: Megadestroyer Zumwalt Delivered to the Navy After Years of Setbacks
The new frigate is an important part of the Navy's plans to modernize for more distributed operations, positioning the U.S. to defend against near-peer adversaries, such as China and Russia. Leaders say it will improve the service's ability to fight on both the high seas and near the shore, with more capabilities than littoral combat ships but a smaller price tag than cruisers and destroyers.
The Navy awarded its contract to Fincantieri about three months ahead of schedule, in a push to get the new frigate program moving. Another way it sped up the process was to build the frigate after an existing ship design.
Fincantieri beat out three competitors — General Dynamics Bath Iron Works, Austral USA and Huntington Ingalls Industries — with its FREMM design that's already in use by the Italian and French navies. FREMM in Italian stands for European multi-purpose frigate.
"All this was done with an intense focus on cost, acquisition and technical rigor so that we got the best value for our warfighter and the taxpayer," Geurts said. "It's the best I've seen in the Navy thus far at integrating all of our teams together and it's a model we are building on for future programs."
The Navy plans to eventually buy 20 of the new frigates. Geurts said they expect delivery of the first ship in 2026, with the class reaching full operational capability by 2032.
Since the service is leaning heavily on an existing platform and technologies for the new ship, Rear Adm. Casey Moton, the program executive officer for unmanned and small combatants, said he's confident the Navy will meet those timeframes. Current plans call for the frigate to use a modified version of the SPY-6 radar Raytheon is developing to keep the Navy's aging destroyers in the fight, along with Lockheed Martin's Aegis Combat System.
Vice Adm. Jim Kilby, deputy chief of naval operations for warfare requirements and capabilities, said the goal is for the frigate to be able to fight in "all spectrums of potential conflict." That includes being able to carry manned helicopters and unmanned aircraft, he said.
The design criteria also called for lots of space for future upgrades to the ship's systems, such as bigger radars or other updates the frigate might need to remain competitive decades from now.
"Though it's classified as a small-surface combatant, it really falls nicely in between our small-surface combatants and our large-surface combatants," Kilby said. "And I see it doing multiple things. This is going to be a real workhorse for the United States Navy, supporting distributed maritime operations in the future."
Since the Navy has higher survivability standards than European services, retired Adm. Rick Hunt, the former head of Naval Surface Force Pacific who now works for Fincantieri, told Defense News last summer that the company added about 300 tons of steel to its FREMM design to qualify to compete for the contract.
Hunt also told the outlet future crews can expect "officer quality" when it comes to berthing compartments with private showers in each room.
"The most you'll see in normal steaming is [four-person staterooms]," he told Defense News. "…That was a fight. That was a back-and-forth with big Navy and again an area that we came to an agreement on, and we're holding [to] that."
This isn't the first big job Fincantieri Marinette Marine has gotten from the Navy. In recent years, the firm has been building freedom-class littoral combat ships for the service.
— Gina Harkins can be reached at gina.harkins@military.com. Follow her on Twitter @ginaaharkins.
Read More: Top Marine General Wants a New Class of 'Light' Amphibious Warship
© Copyright 2020 Military.com. All rights reserved. This material may not be published, broadcast, rewritten or redistributed.