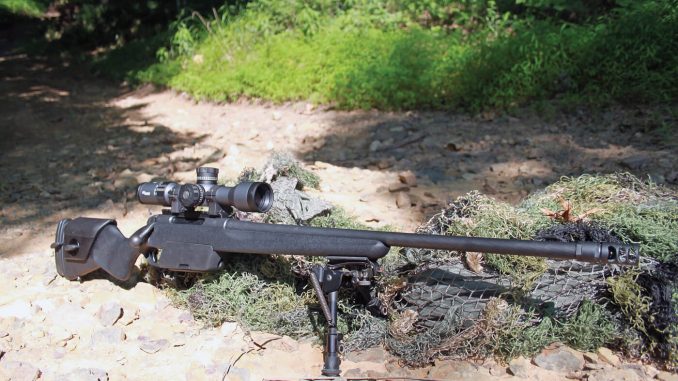 It is hard to follow a legend. The Steyr SSG 69 set the standard by which bolt-action tactical rifles were judged for decades. But Steyr had the unenviable position of designing a worthy successor to this great rifle. This rifle series/bolt-action Steyr was deemed worthy to replace the SSG 69—the SSG 04/08 with SBS bolt action. Prejudices abound when it comes to Steyr rifles, stemming from misconceptions based on price and elitist sentiments. Many individuals, not to mention industry competitors, want one to believe that the Steyr is overpriced Austrian engineering at its best. However, the SSG 04 (SSG=Scharfschützengewehr, which translates to "sharpshooter rifle" or "sniper rifle") is not out of reach. It has an MSRP of $2,395 and is actually more practically priced than many competitor precision rifles. Don't fret if you want to spend more, because upper-end Steyr SSG models are in the $8,000 range, with models in between.   
With several Steyr precision bolt-action models to choose from, the SSG 04 chambered in .300 Winchester Magnum was selected for closer examination. The SSG 04 is the baseline model within the Steyr precision tactical lineup. Its brethren SSG 04A1 and SSG 08 models would be considered enhanced versions due to accessories with each and/or changes in the stocks/chassis. Take heart with the fact that the bolt action, trigger and barrel are the same in all.
The key point with the Steyr SSG 04 is out-of-the-box accuracy without having to resort to a full-blown trip to an agency armorer or gunsmith for tuning. I have been privileged to evaluate precision tactical rifles from manufacturers such as FN, Sako, SIG Sauer, McMillan, HS-Precision, Armalite, Remington, Savage and CZ. This provides a solid background for objectively analyzing Steyr SSG 04 features and capabilities by drawing on my previous experiences of handling some of the most highly respected tactical rifles in the world. The Steyr SSG 04 takes a back seat to no rifle in terms of precision, repeatable accuracy, capacity, ergonomics, reliability, trigger and safety.
HEART OF THE MATTER
The SSG 04 features the Steyr SBS (Safe Bolt System) bolt action, first introduced in 1996, mated to a solid synthetic stock that is adjustable for length of pull and comb height. The Steyr SBS is one of the strongest and safest bolt-actions in the world, with a bushing fully encasing the bolt lugs and extractor. In case of a rupture, this prevents any escaping gases from reaching the shooter.
With four front locking lugs, (the Steyr SSG 69 featured rear locking lugs), the SBS action is the heart of the SSG 04. The lugs are arranged in dual opposing sets on the bolt's body. Two conventional primary locking lugs are backed up by a pair of smaller lugs immediately behind. Cutaway drawings of the Steyr action remind one of an artillery breechblock, especially because of the way the lugs torque into place when the bolt handle is lowered. Rigidity is a must for consistent accuracy.
Steyr has designed the bolt and receiver interaction so that bolt throw is minimized to approximately 70 degrees for faster manipulation. Most dual-lug rifle designs have a bolt throw of nearly 90 degrees. The SBS bolt is routinely proofed by firing a full-power round with a bullet obstructing the bore. A groove around the ejection port area of the body is present for anti-debris and anti-icing purposes. The bolt body has been nickel plated, because it's a finish that is tough and corrosion resistant; it also reduces the coefficient of friction.
To enhance the bolt lift motion, there are dual opposed cocking cams within the bolt body. The Steyr SSG 04 weighs in at 10 pounds and measures 42.6 inches. In terms of velocity and accuracy, the 23.6-inch, 1:10 right-hand twist, hammer-forged, four-groove barrel gets the most out of the .300 Win. Mag. loads. A removable muzzle brake is affixed to the barrel. The detachable-box magazine holds eight rounds of .300 Win. Mag. in a staggered pattern. One can lower the magazine to a second setting, allowing for the ejection of a loaded round and to close the bolt on an empty chamber without stripping a fresh round from the magazine. I have read that this feature was to provide the ability to manually feed specialty rounds based on mission specifics by simply laying them in the raceway with a loaded magazine of another type of ammunition ready to go.
The SSG 04's oversized bolt handle and detachable, eight-round magazine are features that lend themselves to performing in tactical environments. The oversized bolt and smooth passage of the bolt in the raceway allow for minimal disturbance of the rifle when the bolt is worked.
"The Steyr SBS is one of the strongest and safest bolt-actions in the world, with a bushing fully encasing the bolt lugs and extractor. In case of a rupture, this prevents any escaping  gases from reaching the shooter."
The trigger is a single-stage gem measuring 3 pounds of pull weight. The Steyr SSG 04's trigger is a huge part of the accuracy equation. A rifle's trigger is the interface between shooter and rifle. This contribution to precise accuracy cannot be over-emphasized. A by-product of the Steyr trigger design is the three-position safety conveniently located on the stock tang behind the receiver for smooth, quiet operation. The rotating safety has "fire," "safe" and "safe locked" positions. "Safe," designated by a white dot, allows the bolt to be manipulated while still providing a mechanical safety. The "safe locked" position, designated by a spring-loaded catch protruding upward, prohibits the bolt from being worked. The bolt can be depressed 20 degrees further into the  stock when the "safe locked" position is employed, thereby minimizing bolt profile. Lastly, the safety is silent to operate with no audible clicks emitted when manipulating.
ACCURACY TRIUMVIRATE
An important part of the equipment side of the accuracy equation is a quality optic to go along with the cartridge and rifle. A SIG Sauer TANGO6 3-18×44 optic was mounted to the SSG 04 via the 20 MOA Picatinny rail that arrives on the action. SIG Sauer's versatile 6-times zoom system provides a larger field of view at close ranges and better target acquisition at long ranges. The front focal plane reticle design allows the reticle size to increase or decrease as magnification is increased or decreased. Trajectory compensation is always correct and proportional for the selected power setting. SIG Sauer offers three reticle pattern options for the TANGO6. The optic in this article featured the MOA DEV-L reticle. A fine center with holdover and hold-off patterns allows for fast target engagement at all ranges and effectiveness at any magnification.
The TANGO6 features variable intensity settings for the red illuminated reticle. The TANGO6 is evolving into the SIG Sauer flagship variable-power optic featuring a 34mm tube. The 3-18x TANGO6 is comparable to other world-class optics. Its tough construction is perfect for recoil resistance due to inertia forces experienced during recoil. It features ED (extra-low-dispersion) glass, which is further enhanced with the proprietary SIG SpectraCoat broadband anti-reflective finish that virtually eliminates glare and loss of light. ED glass prevents or lessens chromatic aberration, because it concentrates and directs the wavelengths of light more effectively.
Generally speaking, the better the aberrations are controlled, the cleaner and brighter the image will appear. This is especially important at long-range, high-magnification observation. ED glass is usually reserved for premium optics as a result of the cost associated with it. The SIG Sauer TANGO6 3-18×44 is a good fit for the long-range capable .300 Win. Mag. Steyr SSG 04.
PUT UP OR SHUT UP
Tactically, when the shooter's life is at stake—as well as the lives of others such as teammates or innocent hostages—there can be no compromise in terms of consistent accuracy from 100 to 1,000-plus yards. The high-pressure tactical environment is a demanding proving ground that other shooting disciplines can benefit from. Many of the same desirable characteristics for a tactical rifle cross over into multiple disciplines—cold-bore zero, repeatable accuracy, effective range, reliability and handling.
"The eight-round magazine proved advantageous over the normal four- to five-round capacities of other bolt-action precision rifles."
The following .300 Win. Mag. loads were utilized for evaluating the Steyr SSG 04: Black Hills Match 190-grain BTHP, Black Hills 180-grain Accubond, SIG Sauer 190-grain OTM, Federal Premium 190-grain Sierra Matchking, Federal 200-grain EDGE TLR, Hornady 195-grain ELD Match and Hornady 200-grain ELD-X. None of the loads tested disappointed in providing MOA accuracy—a great compliment to both ammunition and the SSG 04 rifle. The logistic advantage of a rifle that is not finicky is hard to over-emphasize.
THE STEYR SSG 69
Few would argue that the Steyr SSG 69 is not worthy of being considered a classic bolt-action precision tactical rifle. Adopted for use by the Austrian army in 1969, as well as several other European law enforcement agencies and countries around the world, the SSG 69 was ahead of its time, defining the genre with synthetic stock, cold hammer-forged barrel and gilt-edged accuracy out of the box without having to send out for expensive/time-consuming customizing re-work.
The SSG 69 was renowned for extreme accuracy; in fact, several international competitions were won using the SSG 69's sub-0.5 MOA accuracy potential.
The SSG 04's 10-pound empty weight translates into a rifle that can be carried afield without fatiguing the user and is easier to adapt to non-prone firing positions, even offhand if needed. I have handled tactical rifles weighing significantly more than the Steyr SSG 04. While accurate from a fixed prone position, all were challenging to shoot in any other way. Many of the tactical rifles available today reflect more of a target-shooting heritage than tactical. After the bench work, through which I tested innate accuracy at the Echo Valley Training Center's (EVTC) Range #2, I performed some of my normal field tests. These consisted of shooting prone off a bi-pod or pack at clay pigeons at 300 yards from the prepared "dug-in" positions offered at EVTC.
I worked the bolt and acquired the next target as quickly as possible on the 4.33-inch-diameter clay pigeons. The muzzle brake, combined with the ergonomic stock and slick bolt with a short lift, proved potent. Other range work consisted of shooting B-27 man targets out to 600 yards on EVTC's Known Distance Range. The Steyr SSG 04's accuracy, along with clear, powerful SIG Sauer optics, enabled center mass shots quickly, with headshots more than feasible when I did my job of doping the wind. It was decided to further test the Steyr SSG 04 using a format witnessed at various LE competitions held at EVTC. Competitors are tasked with engaging small, round, steel poppers placed inside a vehicle at 250 yards, followed up by firing at more clay pigeons at 310 yards and finally shooting at ¼-scale steel targets placed at 450 yards. The inherit accuracy of the SSG 04 made short work of the course of fire.
The eight-round magazine proved advantageous over the normal four- to five-round capacities of other bolt-action precision rifles. The oversized handle and smooth passage of the bolt allows for fast follow-up shots. The large ejection port also makes single loading of cartridges simple once the magazine runs dry.
"Any department, agency, organization or individual looking for a rifle/cartridge combination offering the potential of the .300 Win. Mag. at better than 1 MOA accuracy would do well to consider the SSG 04 from Steyr Arms."
It was no problem riding the rifle's recoil with minimal disturbance: Work the action and engage the next target. The SIG Sauer TANGO6 scope enabled effective hold-off with its reticle design. If preferred, a shooter can dial in the changes with the turrets, especially as ranges extend past 600 yards. The Steyr SSG 04 impressed with its ability to place rounds on target, instilling confidence in its capability. A cold-bore shot was taken at every opportunity during the several visits to the range. The shot always landed where intended. Nothing instills more confidence in a precision rifle weapon system than the ability to place the first shot exactly as aimed.
PARTING THOUGHTS
I do not see the Steyr SSG 04 .300 Win. Mag. taking over the tactical market. The .308 Win. and 5.56mm will continue to predominate for many justifiable reasons. Other manufacturer models already entrenched in marksman psyche will not be easily replaced either. In many circles, the .300 Win. Mag. is perceived as a specialty round. However, I do see the Steyr SSG 04 as one of the most viable platforms for launching the .300 Win. Mag. cartridge—albeit for tactical duties or even sporting. Any department, agency, organization or individual looking for a rifle/cartridge combination offering the potential of the .300 Win. Mag. at better than 1 MOA accuracy would do well to consider the SSG 04 from Steyr Arms.
PERFORMANCE RESULTS
Ammunition

Velocity (fps)

Accuracy (inches)

Average

Best

Black Hills 190-grain BTHP Match

2,915

0.80

0.50

Federal Premium 190-grain Match

2,890

0.60

0.30

Hornady 195-grain ELD Match

2,905

0.85

0.75

SIG Sauer 190-grain OTM

2,805

0.75

0.66

Hornady 200-grain ELD X

2,805

0.90

0.70

Federal 200-grain Edge TLR

2,760

0.66

0.40

Black Hills 180-grain Accubond

2,880

1.00

0.75
NOTES: Accuracy test protocol consists of five three-shot groups with each ammunition type, fired at 100 yards. Velocity figures are obtained by averaging three rounds fired over an RCBS Ammomaster chronograph.
STEYR SSG O4
SPECIFICATIONS
---
CALIBER: .300 Winchester Magnum (tested); .308 Winchester
BARREL: 23.6-in., 1:10 RH, cold hammer-forged with threaded brake
OA LENGTH: 42.6 in.
WEIGHT: 10.4 lbs.
SIGHTS: None. 20 MOA Picatinny rail for mounting optics. (Optic used for this article [not included with rifle]: SIG Sauer TANGO6 3-18×44)
ACTION: Steyr SBS
CAPACITY: 8-round, detachable
MSRP: $2,345
CONTACT INFORMATION
---
Editor's note: A version of this article first appeared in the November 2018 print issue of Gun World Magazine.