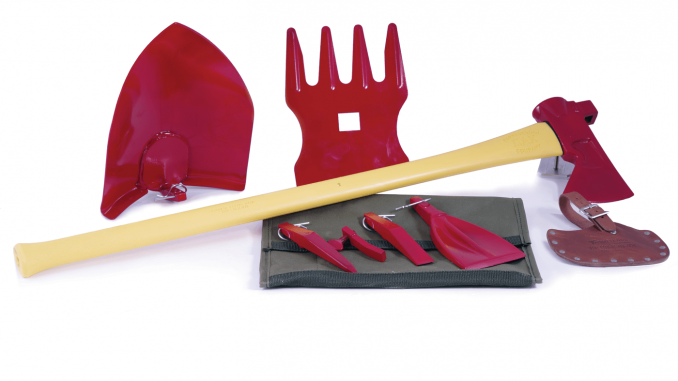 The LifeLite offers effective, non-lethal self-defense. It launches a pharmaceutical-grade PAVA pepper powder ball up to 60 feet. To engage the threat: Pull the safety pin (as on a grenade), slide the safety forward (which turns on the laser-aiming guide), and press the trigger. Although we found it to be pretty accurate, direct hits aren't required—the pepperball bursts into a 12-foot cloud of irritant that disables the attacker for up to 15 minutes. It's semiauto with a five-shot capacity and uses a standard airgun CO2 cartridge. The built-in flashlight is 350 lumens. It ships with five live SD Pepperballs, 10 inert practice balls and three CO2 cartridges. It's about the size of a Maglite (circa 1990s) and the weight of a loaded 1911. (We enjoyed shooting the inert—and not-so-inert—projectiles more than we should have.)
MODEL: LifeLite Model 52
SIZE: 11.25" L x 2.31" W x 2.56" H; 1.75 lbs.
MSRP: $300
Franklin Armory follows up its popular Binary Firing System Gen3 trigger with a flat shoe trigger that we're big fans of. Flat triggers are mostly a matter of preference but can give an even trigger pull, regardless of where the  finger is on the trigger. The BFS trigger is a three-position trigger with "safe" and "semiauto" positions, just like a standard trigger. Push it forward into the "binary" position, and it fires one round with a pull of the trigger and one round upon release. To cancel the release round with the trigger pulled to the rear, take it out of binary mode, and it doesn't fire. It's a lot of fun and maximizes the speed of follow-up shots. Aside from the fun binary mode, it's a good trigger that provides a clean, 4.5-pound pull with a clean break and excellent reset.
MODEL: BFS III Flat Trigger
MSRP: $430
This isn't one of those cute little off-road vehicle tool kits that's made for light-duty use. No; this is a heavy-duty kit made to save your butt in the field. It has been in use by the U.S. military in light to medium tactical vehicles for almost two decades. The centerpiece of the kit is the axe, which features a 3.5-pound Hudson Bay-style axehead made of tempered tool steel and a 34-inch composite polyglass handle. Five separate tool heads attach to the handle for a total of seven tools: axe/sledge, shovel, pick, rake, hoe, broad pick and mattock. Includes a leather axehead sheath and Cordura carrying case. It is 100 percent sourced and made in the U.S.A.
MODEL: The MAX Multipurpose Tool
WEIGHT: 12.5 lbs.
MSRP: $250
If you've ever had a water-logged Zippo that wouldn't light or have pulled one out of your gear, only to find that the fluid has evaporated, Thyrm has solved your problem. Made of tough, heat-resistant, reinforced polymer, this lighter housing accepts Zippo-style lighter inserts, and the O-ring seal keeps the go-juice in and the elements out. Pressing the spring-loaded lever opens the cap for one-handed operation. A MOLLE-compatible clip attaches directly to your gear. Works with both fluid and butane torch lighters.
MODEL: PyroVault Lighter Armor
COLORS: Black, FDE, Olive Drab, Rescue Orange, Urban Grey
MSRP: $30 ($45 with Thyrm-logo Zippo)
Made of VG10 Japanese stainless steel with a Rockwell hardness of 65, it's given a treatment of carbonitride titanium for superior resistance to corrosion. It has a mirror-polished finish that goes nicely with the carbon-fiber handle material. The hollow-ground drop-point blade is razor sharp and has very good edge retention. The liner lock keeps it securely open. It uses a dual ball-bearing system for easy opening with thumb stub or flipper. The pocket clip is nonchangeable and positions tip-up.
MODEL: TRC
LENGTH: 6.75 in. OAL; 2.75-in. blade
MSRP: $70
The MeoRed T is a rugged, fast-aiming red-dot optic made of aluminum/magnesium alloy. It uses anti-reflective multi-coating for clarity and light transmission, along with a hydrophobic layer to dissipate water. It's nitrogen
filled, hermetically sealed and watertight, even when immersed. It's very durable and impact-resistant: We drop-tested it 10 times from 6 feet, and it worked perfectly. We submerged it, froze it overnight at -10 degrees (F) and then busted it out of the ice block. It still worked perfectly. It's a little pricey, but it's a top-notch optic.
MODEL: MeoRed T
SPECS: 1.5 MOA, 1x30mm; 1 AA battery; 1,000 hours
MSRP: $1,000
This is a functional, handmade work of art that discreetly secures your go-to home-defense firearms at the ready. It's made of burnt, oiled wood with grooves to inlay a U.S. flag cut from 16-gauge, cold-rolled, mild steel. The steel is ground, polished and then given three layers of glossy clearcoat. The interior is foam that can be easily cut for storing your firearm-of-choice, extra magazines, etc. We tested the spacious 4-foot model that measures 42 x 25 x 3.5 inches and has enough room for an AR15, shotgun, a couple of handguns and mags/ammo for all. It's a great-looking addition to any room that will surely be the centerpiece for any patriot.
MODEL: Freedom Cabinet, U.S. Flag
OPTIONS: 2, 3 or 4 ft.; non-locking, key lock, RFID lock, RFID plus gas shock
MSRP: $195–$496 ($390 as tested: 4 feet with key lock)
The Hone is the result of taking the best features from the Strider, Snare and Carbine packs and combining them into one pack. It's made to carry a bow or rifle and has a 34-liter main compartment that's large enough to carry out a quartered animal. The rigid internal frame adds stability with heavy loads and is made of a polymer flat panel with an aluminum stay that runs the height of the pack. The padded shoulder straps are comfortable, and the padded hip belt takes the weight off the shoulders. Two large side pockets and a compression panel with two large pockets allow for quick access to important items. It has a built-in rifle rest, MOLLE/PALS webbing and is made of 600D Polyester.
MODEL: Hone–Kryptek Highlander
SIZE: 21.5" H x 15" W x 11" D; 3 lbs., 4 oz.
MSRP: $160
Editor's note: A version of this article first appeared in the November 2018 print issue of Gun World Magazine.