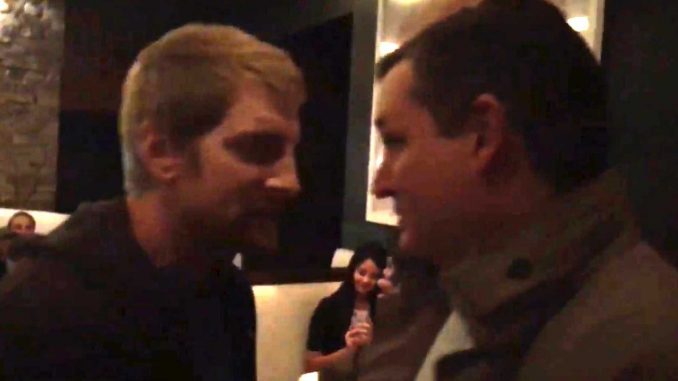 by James Barrett    Dailywire.com
On Monday night, left-wing activists converged on Republican Sen. Ted Cruz and his wife Heidi while they were trying to eat dinner at a restaurant in Washington, D.C.
The moment was cheered as a great victory by a group calling itself Smash Racism D.C., which posted video of the confrontation online.
"Activists just chased TedCruz out of a fancy Washington DC restaurant, chanting 'We Believe Survivors!'" the group wrote in a tweet.
"Cruz has been friends with creep Kavanaugh for 20 years. Now Cruz is on judiciary committee hearing his testimony. Fascists not welcome!"
Widget not in any sidebars
But the owner and head chef of the restaurant, Fabio Trabocchi, has since revealed that the left-wing group's big victory over the "fascists" was actually a big fail.
CNN's Kate Bennett reported Tuesday that the restaurant has since clarified what really happened:
After Trabocchi's management team moved the Cruzes to safety while they called police and got the left-wing activists out of there, the Cruzes sat right back down and "finished their meal in peace."
"Last night, protesters entered Fiola with the apparent purpose of confronting one of our guests," the restaurant group said in a statement.
"Recognizing that there was potential for escalation, our stellar management team immediately diffused the situation. Per our policy for events of this nature, the police were called and the guest escorted to privacy — our highest priority is always the well-being of our customers. When the situation resolved a few minutes later, our guests returned to thank the staff for their support and to finish their exceptional meal."
The statement ends with a strong assertion of the restaurant's commitment to respecting people of diverse ideologies and opinions.
"The FT group welcomes all patrons and is proud of its reputation not just of culinary excellent but also of creating a welcoming space for all, irrespective of creed, ideology or opinion," the statement reads.
"Chef Fabio believes politics — like elbows — are best left off the dining table and we welcome everyone."