(Bloomberg) — A changing of the guard appears to be on the horizon in Quebec.
With less than three weeks to go before the Oct. 1 election, an upstart alliance that's pledging to reduce immigration is favored to oust the Liberal Party that's governed the French-speaking Canadian province for all but two of the past 15 years.
Coalition Avenir Quebec, the eight-year-old party led by former airline executive and education minister Francois Legault, is leading in the polls — though recent surveys show it may lack the support required to win a majority.
The CAQ, which is also pledging to make government more efficient, has the support of 35 percent of voters compared to 29 percent for Philippe Couillard's Liberals, according to weighted polling averages compiled by the Canadian Broadcasting Corp. Ominously for the incumbent premier, 62 percent of voters surveyed by polling company Leger this month said they were dissatisfied with Couillard's government.
In power since April 2014, the Liberals are playing up their track record of running budget surpluses and helping to lower the unemployment rate to four-decade lows amid continued economic expansion. For many Quebeckers, however, the Couillard administration has become synonymous with corruption allegations and cutbacks in education, healthcare and other government services.
Merkel calls for European solidarity to tackle illegal immigration
Couillard and his finance minister, Carlos Leitao, are pledging balanced budgets for each of the next four years if reelected. While both the CAQ and the separatist Parti Quebecois agree on the necessity of balancing the books, they differ on how to reach that goal.
For the CAQ, which would cut school taxes and return C$1.7 billion ($1.3 billion) to Quebeckers, a balanced budget must come with reduced bureaucracy and government waste. The separatists plan to step up the fight against tax evasion, boost taxes on financial institutions and roll back planned wage increases for doctors.
Quebec Solidaire, a left-leaning party that also wants Quebec to become a separate country, is pledging to flight climate change and reduce social inequality in part by raising corporate taxes, mining royalties and taxing of the rich.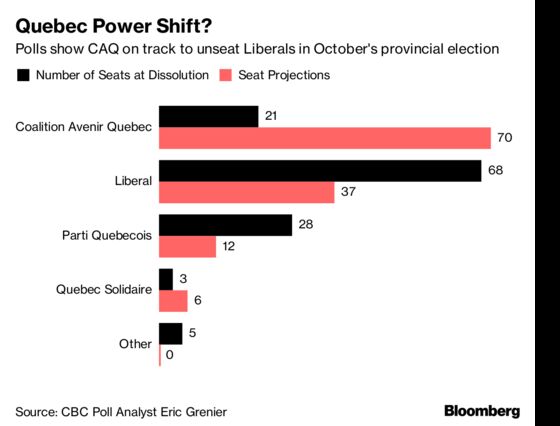 Widget not in any sidebars

Government Spending
All four main parties plan to devote ever-larger sums to education and healthcare — the government's two key missions in an ageing province. The Liberals are guaranteeing annual increases of at least 4 percent in both areas, while committing to infrastructure investments of C$110 billion over the next decade — a 10 percent increase from the current plan.
The CAQ would shrink the number of civil servants by about 1 percent over four years through attrition as part of a plan to reduce government waste, saying it would save C$4 billion annually in the process.
The PQ's platform includes a pledge to spend an additional C$4 billion on public transit.
With Quebec facing labor shortages in several regions and immigration now capped at about 50,000 people a year, the CAQ wants to cut the limit to 40,000 to better integrate newcomers. It's also vowing to give immigrants three years to learn French or face the risk of being expelled from the province — a pledge criticized by Couillard, who says immigration will be the true "ballot box question" on Oct. 1.
The Parti Quebecois, meanwhile, insists immigrants must be better integrated and wants to make knowledge of French a condition for settling in the province.
With the Liberals having announced plans in March to pay down C$10 billion in debt over five years, the CAQ wants to go even faster — by making a C$10 billion payment before the end of March 2019. That could help the province save as much as C$300 million a year in interest, Eric Girard, a former National Bank of Canada executive who is running for office with the CAQ, said by phone this week. The party is committed to a Liberal target of reducing debt as a proportion of gross domestic product to 45 percent by March 2026.
The PQ's financial framework, released Thursday, makes no mention of debt repayments, but preserves annual contributions to the Generations Fund, which the Liberals created to reduce the province's net debt-to-GDP ratio.
The minimum wage, which climbed 6.7 percent to C$12 as of May 1, would be set for an even bigger jump if either of the separatist parties win power. The PQ and Quebec Solidaire would raise it to C$15 an hour, matching the level in neighboring Ontario — though a PQ-led increase wouldn't take effect until 2022, three years later than with Quebec Solidaire. Spokespeople for the CAQ and the Liberals have cautioned against such a rapid increase, saying it could hamper job creation.
Chief executive officers beware: If the PQ returns to power, any public company whose five highest paid executives earn more than 30 times the average salary of employees would be subject to a 10 percent penalty. The PQ is also proposing to cap the salaries of executives at state-owned companies such as Hydro-Quebec so that they don't exceed the compensation of the province's premier.