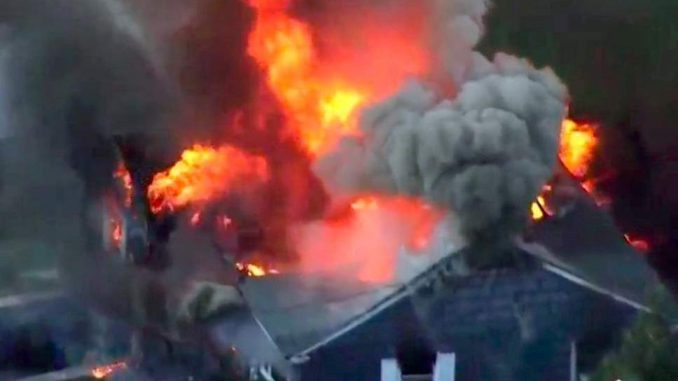 LAWRENCE (CBS) – Residents in three communities north of Boston are being asked to evacuate their homes after there were dozens of explosions and fires.
An issue with a high pressure gas main has affected Lawrence, North Andover and Andover. Anyone who has gas service from Columbia Gas is being told to leave their homes until further notice.
Massachusetts State Police say gas lines are currently being depressurized by the company. Power has been shut off in the three communities as a precaution.
Emergency crews have responded to at least 70 addresses for fires, explosions or the investigation of gas odor.
There were a total of 35 fires in Andover alone. All fires have been extinguished, but at peak, 18 fires were burning at the same time. At least three people have been injured in Andover, including one firefighter and at least two civilians.
Governor Charlie Baker says he communicating with safety officials. "The administration urges residents to heed instructions from local officials for important public safety announcements, including evacuations and suspending gas usage," Gov. Baker's spokeswoman said.
A home on Chickering Road in Lawrence appears to have exploded. Video from SkyEye shows the home with extensive damage and the chimney collapsed onto an SUV in the driveway. WBZ-TV's Gary Brode says one person was taken to the hospital from the scene.
Widget not in any sidebars
All off-ramps on I-495 from Exits 42 through 45 in the area are closed. On ramps remain open to allow evacuation.
The FBI says they are also investigating the explosions. "We are coordinating with our law enforcement partners as expected and personnel are on scene, as we normally would be in a situation like this to assess the situation," the FBI said in a statement.
Lawrence Mayor Dan Rivera says the issue appears to be in the southeast part of the city.
MSP Fusion Center has current updated tally of responses to fires/explosions/investigations of gas odor at 70. Spread over wide swath of south #Lawrence and northern part of #NorthAndover with several others across Merrimack River in north Lawrence. pic.twitter.com/a7kBYaWFrJ

— Mass State Police (@MassStatePolice) September 13, 2018
WBZ-TV's Kristina Rex says Andover Police sent out an automated phone call telling residents to evacuate their homes and turn off the gas.
North Andover Police told residents and businesses with gas service to exit their buildings until further notice.
The area is covered by Columbia for gas, but National Grid for electric. National Grid says their electric crews are responding to assist.
WBZ-TV's Cheryl Fiandaca reports that Columbia was doing work in the area earlier on Thursday.
Stay with CBSBoston.com as more information becomes available.