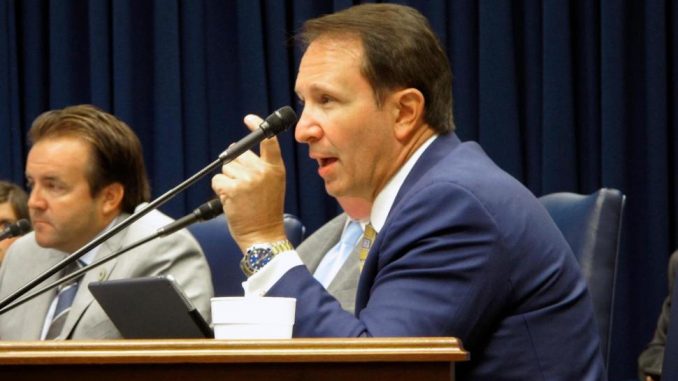 Louisiana denies two major banks $600M over the banks' policies on gun control pic.twitter.com/EHtlSR3hGE

— FOX & friends (@foxandfriends) August 17, 2018
By MELINDA DESLATTE, Associated Press
BATON ROUGE, La. (AP) — Louisiana officials blocked two of the nation's largest banks Thursday from involvement in a $600 million road-financing plan because they have policies restricting gun sales and manufacturing by their commercial customers.
In a narrow 7-6 vote, the State Bond Commission refused to allow Citigroup and Bank of America to work as underwriters on the interstate highway financing deal.
The effort to ban the banking giants from the borrowing transaction was led by Attorney General Jeff Landry and Treasurer John Schroder, both Republicans, and opposed by Democratic Gov. John Bel Edwards' administration.
Those pushing to exclude Bank of America and Citigroup from the financial work said by enacting firearm restriction policies for their corporate customers, the banks were violating Second Amendment rights.
Opponents said the move exceeded the commission's authority and would force Louisiana into costly litigation.
"We would probably be doing a huge disservice to the taxpayer and to the state," said Sen. Eric LaFleur, the Ville Platte Democrat who chairs the Senate budget committee.
In March, in response to a deadly high school shooting in Florida the previous month, Citigroup announced it would end relationships with retailers and clients that sell firearms to people who haven't passed a background check or that don't enact restrictions on gun sales to people under the age of 21. The bank also will not allow its customers to sell rapid-fire devices known as bump stocks and high-capacity magazines.
Bank of America said it will stop doing business with manufacturers of "certain military-style firearms for non-law enforcement, non-military use."
Representatives of both banking firms defended the policies in Thursday's meeting, saying they don't believe the policies infringe on Second Amendment rights. Brandee McHale, with Citigroup, said the firearms still are available for purchase and customers can use their individual debit and credit cards to buy such weapons.
Still, conservative Republicans said the restrictions went too far.
"I don't think we should punish good people for what bad people do," Schroder said.
Lawyers on the commission argued over the implications of blocking the banks from the state roadwork deal and whether the move was legal.
Widget not in any sidebars
Both banking companies filled out paperwork applying for the road financing deal that said they don't have policies that restrict or infringe on Louisiana citizens' constitutional right to bear arms. Landry objected to those answers, saying they were "disingenuous at best."
Edwards' chief lawyer Matthew Block said the constitutional protections involve government infringement on individual rights and don't extend to private businesses.
LaFleur said the Bond Commission's role in choosing financing partners for deals is limited. He said commission members don't have the discretion to factor in social policy. Landry replied: "He is wrong."
House members sided with Landry, Schroder and Secretary of State Kyle Ardoin in voting to exclude the two banks from the financial work. Senators voted with the Edwards administration in opposing the effort.
The Bond Commission didn't move to rework existing deals with the banking giants.
The $600 million borrowing plan at issue in Thursday's vote will pay for a widening of Interstate 10 in Baton Rouge, a new exit from Interstate 20 into Barksdale Air Force Base and an I-10 interchange to serve a new terminal at the New Orleans airport. Louisiana will sell federal construction bonds to investors, repaying the debt over 12 years with federal highway dollars.