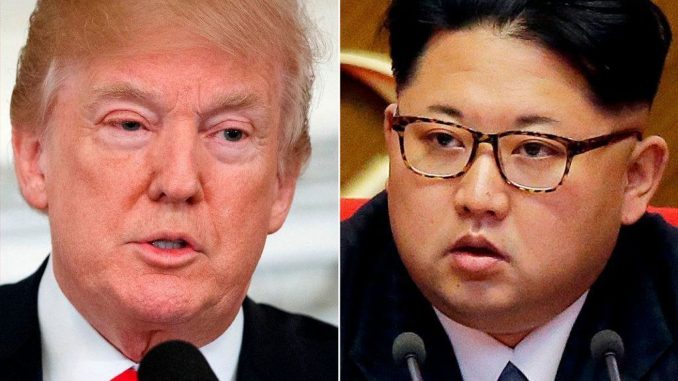 President Trump kept the diplomacy door open with North Korea on Friday, welcoming the regime's latest "productive" statement and saying the two sides are still talking following the administration's decision to cancel a planned summit with Kim Jong Un.
Trump nixed the summit, which was slated for June 12 in Singapore, following threats from North Korea. But hours after the U.S. pulled out of the meeting, North Korea issued a statement suggesting the regime was open to talks.
"Very good news to receive the warm and productive statement from North Korea. We will soon see where it will lead, hopefully to long and enduring prosperity and peace. Only time (and talent) will tell!" Trump tweeted on Friday morning.
https://twitter.com/realDonaldTrump/status/999986971660423170
He also told reporters that "we're talking to them now," adding, "It could even be the 12th."
"They very much want to do it, we want to do it, we'll see what happens," Trump said. "Everybody plays games."
A top North Korean official had issued a statement Thursday evening expressing the regime's "willingness" to sit down for a summit with the U.S.
Widget not in any sidebars
"We express our willingness to sit down face-to-face with the U.S. and resolve issues anytime and in any format," North Korean Vice Foreign Minister Kim Kye-gwan said, according to Yonhap News outlet, which cited the Korean Central News Agency (KCNA.)
The official also said that Trump's move to call off the summit highlighted the tensions between the two countries, further emphasizing the need for a meeting. The official added that Kim had been preparing for the summit.
"Despite all of this, the U.S.' unilateral decision to scrap the talks causes us to reconsider whether all of the efforts and the path we have taken is really the right one or not," the official said, according to Yonhap. "Our commitment to doing our best for the sake of peace and stability for the world and the Korean Peninsula remains unchanged, and we are open-minded in giving time and opportunity to the U.S."
But on Friday, with the door left open for potential U.S.-North Korea talks, Trump suggested it was the Democrats who were against "negotiations" with the rogue regime.
"Democrats are so obviously rooting against us in our negotiations with North Korea. Just like they are coming to the defense of MS 13 thugs, saying that they are individuals & must be nurtured, or asking to end your big Tax Cuts & raise your taxes instead. Dems have lost touch!" Trump tweeted Friday.
https://twitter.com/realDonaldTrump/status/999984507574018049
Following Trump's letter to Kim on Thursday suggesting to hold the meeting would have been "inappropriate," House Democratic Leader Nancy Pelosi, D-Calif., blasted the president, suggesting Kim had "won."
Pelosi described the letter from Trump to Kim as a "Valentine."
"He's the big winner and when he got this letter from the president saying 'okay nevermind,' he must be having a giggle fit, right now, in North Korea," Pelosi said on Capitol Hill Thursday.
Widget not in any sidebars
Also on Friday, the president tweeted about the reported FBI informant who had communicated with members of his campaign in 2016.
"The Democrats are now alluding to the concept that having an informant placed in an opposing party's campaign is different than having a Spy, as illegal as that may be. But what about an 'informant' who is paid a fortune and who 'sets up' way earlier than the Russia Hoax?" Trump tweeted.
https://twitter.com/realDonaldTrump/status/999984492197613568
Moments later he added: "Can anyone even imagine having Spies placed in a competing campaign, by the people and party in absolute power, for the sole purpose of political advantage and gain? And to think that the party in question, even with the expenditure of far more money, LOST!"
https://twitter.com/realDonaldTrump/status/999984495179726848
After a high-level Justice Department briefing held Thursday on the Russia case, Democratic lawmakers maintained there was no evidence to support claims of a spy in the Trump campaign.
Fox News' Liz Zwirz contributed to this report. 
RELATED LINK:
White House pulls out of summit with North Korea's Kim Jong Un