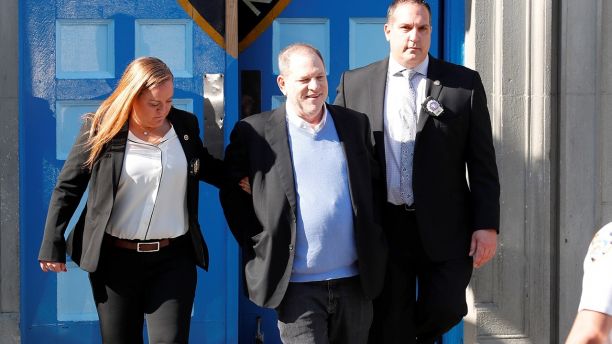 Disgraced movie mogul Harvey Weinstein was charged with rape, criminal sex act, sex abuse and sexual misconduct for incidents involving two separate women after turning himself in to the New York City Police Department on Friday.
Weinstein smiled as he walked out of the NYPD's 1st Precinct in handcuffs and was escorted to a car by two officials. He was then escorted in his car to the courthouse where he will face a judge.
The NYPD detailed Weinstein's pending charges in a statement released to Fox News.
"The NYPD thanks these brave survivors for their courage to come forward and seek justice. The arrest and ensuing charges are the result of a joint investigation between the NYPD and the Manhattan District Attorney's Office," the statement said. "Additional information will be provided as it becomes available."
Widget not in any sidebars
A law enforcement official told The Associated Press that the criminal sex act charges stem from a 2004 encounter between Weinstein and an aspiring actress. She has said he forced her to perform oral sex.
The official says the rape charge relates to a woman who has not spoken publicly. The official wasn't authorized to discuss the case and spoke on condition of anonymity.
When Weinstein arrived at the precinct on Friday, he didn't reply as news crews that were staked out in the area called out his name. He wore a blue V-neck sweater with a blazer and dress pants as he walked inside. Weinstein carried several books with him, one of which  was "Something Wonderful: Rodgers and Hammerstein's Broadway Revolution" by Todd S. Purdum.
On Thursday, news broke that the 66-year-old was going to face the music. Since his downfall in late 2017, he's been spending time in a treatment facility in Arizona.
Allegations against Weinstein first came out in two bombshell reports in October, in which multiple women accused him of sexual harassment, sexual assault or rape. More than 80 women have accused him of misconduct.
The New York Daily News reported on Thursday that the charges Weinstein is facing were connected to an incident involving Lucia Evans, who has spoken out publicly about her experience with former movie exec.
Evans' claims were detailed in an October report from The New Yorker, where she alleged that in 2004, the Hollywood producer made her engage in oral sex.
"I said, over and over, 'I don't want to do this, stop, don't,'" she told the outlet. "I tried to get away, but maybe I didn't try hard enough. I didn't want to kick him or fight him."
Widget not in any sidebars
She didn't report the incident to the police at the time, telling The New Yorker that she blamed herself for not fighting back.
"It was always my fault for not stopping him," she said.
Weinstein repeatedly has denied any and all allegations of non-consensual sex. His lawyer, Benjamin Brafman, is not commenting.
Following the reports detailing the allegations, Weinstein was fired from the company he co-founded with his brother and expelled from the organization that bestows the Academy Awards.
Fox News' Elizabeth Zwirz, Leora Arnowitz, Sasha Savitsky and The Associated Press contributed to this report.
Harvey Weinstein arrives at NYPD station from CNBC.