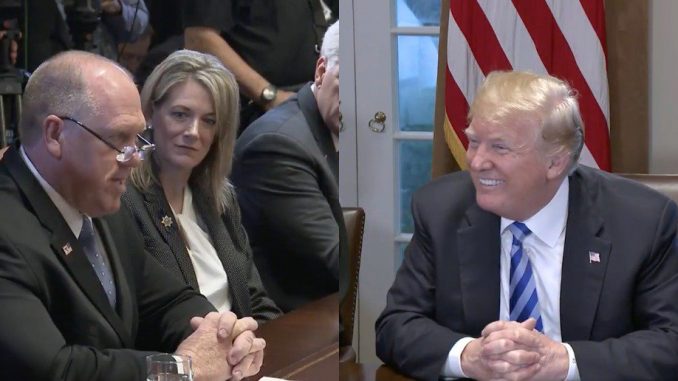 President Trump held a Wednesday roundtable at the White House to discuss sanctuary cities, during which he took a shot at the previous six presidents.
The table included various mayors and politicians from California who are against the practice. California has declared itself a sanctuary state, a direct violation of US law.
The most powerful speech was given by U.S. Immigration and Customs Enforcement director Thomas D. Homan. Homan savaged the practice of releasing dangerous criminal illegal aliens back into American communities. Homan called the practice "disastrous" to American communities. "ICE does more to protect American communities than any politician does," Homan said.
Widget not in any sidebars
Homan, who is retiring, then made the point to say that there is a difference between Trump and the six presidents he has worked for.
"No president has done more than you for border security and law enforcement," Homan said.
Trump thanked him, and said Homan was "respected." Then Trump cracked a joke, saying "I wish you could have said that to the press – but you have such a big beautiful head of hair it does not matter."