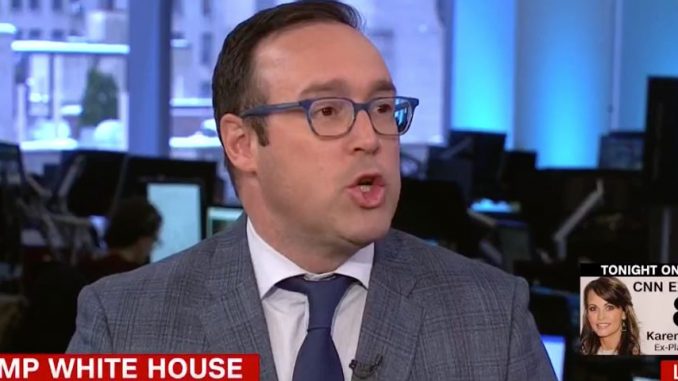 CNN editor-at-large Chris Cillizza posted a gif containing crosshairs over the image of President Trump on Tuesday.
The original tweet read, "Donald Trump, pointing to heavens to commemorate police officers killed in the line of duty," and showed green crosshairs over the president's face.
Here we have CNN's Chris Cillizza posting an image of crosshairs around the president of the United States of America.

This is CNN. pic.twitter.com/Q0gdAbkgLw

— Caleb Hull (@CalebJHull) May 15, 2018
Widget not in any sidebars
oh, really? pic.twitter.com/XsTXK2ZoUS

— Caleb Hull (@CalebJHull) May 15, 2018
Cillizza later deleted the tweet and insisted that he did not add the crosshairs himself — rather, he blamed the GIF service used by CNN.
I've deleted a GIF about President Trump. We use @GifGrabber to make our GIFs and it defaults to the image below as a first frame. To clear up any unintended confusion, I've removed the tweet. pic.twitter.com/x6PCKoiW16

— Chris Cillizza (@ChrisCillizza) May 15, 2018
The crosshairs tweet is eerily similar to a map of political opponents posted by Sarah Palin. Journalists accused Palin of inciting violence against those opponents and even blamed her for allegedly inspiring the 2011 shooting of Democratic Rep. Gabby Giffords.  (RELATED: Sarah Palin Suing New York Times For Defamation)
Cillizza's tweet follows a trend of violent rhetoric from members of the media, including CNN analyst April Ryan recently joking about getting into a fist fight with White House press secretary Sarah Sanders and MSNBC anchor Nicolle Wallace suggesting she wants to choke Sanders. (RELATED: Media Rhetoric On Trump Administration Becomes Increasingly Violent)