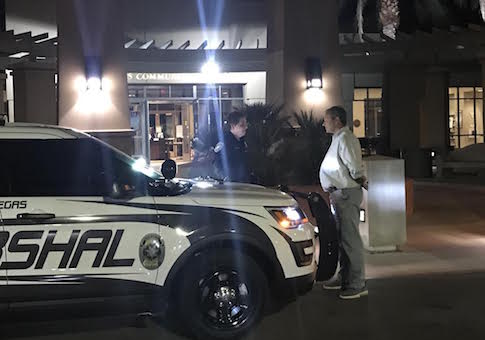 Dem Operative Arrested in Nevada After Assaulting Female GOP Staffer
'I kept screaming help me, stop hurting me, you are hurting me'
A tracker for a liberal super PAC was arrested on Tuesday night in Nevada for assaulting the female campaign manager for Republican gubernatorial candidate Adam Laxalt. Kristin Davidson told police the man grabbed her arm and twisted it behind her back, leaving visible bruising.

Mike Stark, who was following around Laxalt for David Brock's American Bridge 21st Century super PAC, barged into a room where Laxalt, Nevada's attorney general, was meeting with Davidson and two other staffers, Davidson said in her statement to the police. She said she was cornered by Stark before he grabbed her.

"I could not move," Davidson said in her statement to police, which was shared with the Free Beacon. "Stark grabbed my right arm, twisted it behind my back, squeezed it very hard, and every time I tried to pull away he pulled me closer and gripped my arm tighter."

"I kept screaming help me, stop hurting me, you are hurting me," she wrote. "Stark would not stop and grabbed my arm tighter and pulled me closer to him and the door. I was terrified and at that point saw multiple colleagues try to pull him off me but Stark held tighter."


Widget not in any sidebars


The campaign shared images of bruising on Davidson's arm, adding that her neck, shoulder, and lower back were also injured in the attack. Davidson wrote in her report to police that the "right side of [her] head" was "throbbing and in pain" after the attack.

Stark has a history of aggressive behavior when tracking Republicans. Last year he was arrested, and later convicted, for disorderly conduct in Virginia as he attempted to cover Republican gubernatorial candidate Ed Gillespie, according to the Washington Post. Stark was similarly arrested back in March after pushing a female staffer for Interior Secretary Ryan Zinke to the floor and was charged with simple assault by U.S. Capitol Police.

American Bridge did not immediately respond to a request for comment on Stark's most recent arrest.

The Laxalt campaign released a statement saying Davidson is "tough" and "will not let this stop her from doing her job—no matter what the other side throws her way."

"Last night, politics in Nevada reached a new low," said campaign spokesman Parker Briden. "Assaulting the female campaign manager of an opposing campaign is disgusting and it has no place in our system. This mob behavior from the left is out of control."

The campaign also shared images of Stark in police custody outside the venue where the incident occurred.

An accounting of the incident by the Laxalt campaign provides additional information on the attack, including an accusation that Stark told Laxalt he could "make this stop" as he maintained his hold on Davidson.
"After an education rally, a large male liberal operative began chasing members of the Laxalt campaign and the Attorney General, getting physically aggressive to push himself onto staff. When the team entered a side room and closed the door, the man pushed the door open—trapping Kristin in the doorway, grabbing her arm, and forcefully twisting it behind her back and squeezing. She screamed, "You're hurting me! Stop hurting me!" but he would not stop and grabbed her arm tighter—creating painful bruises and straining her neck, shoulder, and lower back. The man would not relent and screamed: "You can make this stop, Adam." Kristin was terrified and begged for him to stop and could not get free until Las Vegas City Marshals intervened. They arrested him, and while Kristin's head, neck, and arm were throbbing with pain, they took him to the Las Vegas City jail."
Fox News was first to report on the Tuesday arrest. THE WASHINGTON FREE BEACON


Widget not in any sidebars

Two GOP Candidates Assaulted in Minnesota
Attacks come as state Democrats suspend staffer for beheading post
The Minnesota Democratic Party has suspended a spokesman for calling for violence against Republicans even as two GOP candidates have been assaulted in suspected politically motivated attacks.
The Democratic-Farmer-Labor Party has suspended communications staffer William Davis for one week without pay after making a Facebook post joking that Democrats would "bring [Republicans] to the guillotine" on Nov. 7, the day after the midterm elections. Minnesota Republican Party chairman Jennifer Carnahan said the suspension was not enough, calling for his immediate firing in the aftermath of separate attacks against Republican candidates. She said she has been subjected to numerous death threats during her tenure as the state party leader and that death threats are no laughing matter.
"The overt hatred and violence that has become prevalent from many Democrats towards Republicans in recent times is unlawful, unacceptable, and downright scary," she said in an email. "Yes, we have free speech and the right to peacefully assemble, but these words and actions by the left have gone too far. … He should have been terminated immediately."
DFL officials did not respond to request for comment.

Widget not in any sidebars

The suspension came days after Minnesota state representative Sarah Anderson was punched in the arm after spotting a man destroying Republican yard signs. She said the attack left her scared, and her attacker only desisted when she fled to her car and threw it in reverse.
"It was just insane. He was charging at me, saying, 'Why don't you go kill yourself?'" Anderson told the Washington Free Beacon. "To have someone physically coming after you and attacking you is just disheartening."
The Plymouth Police Department investigation into Rep. Anderson's alleged assault remains ongoing. A spokeswoman confirmed the department had identified a suspect, but declined further comment.
Anderson was not the only GOP candidate attacked. First-time state representative candidate Shane Mekeland suffered a concussion after getting sucker punched while speaking with constituents at a restaurant in Benton County. Mekeland told the Free Beacon he has suffered memory loss—forgetting Rep. Anderson's name at one point in the interview—and doctors tell him he will have a four-to-six week recovery time ahead of him. He said he was cold cocked while sitting at a high top table at a local eatery and hit his head on the floor.
"I was so overtaken by surprise and shock and if this is the new norm, this is not what I signed up for," he said.
Benton County Sheriff Troy Heck told the Free Beacon that his department has interviewed the alleged assailant. Investigators are awaiting medical records about the extent of Mekeland's injuries before referring the case to the local district attorney's office. He expects those results to come in the next week.
Mekeland said he was disappointed that he had not seen Democrats condemn the attack against him, but was floored to see the party take such a light approach to Davis's comments.
"He's a political staffer so you'd think if anybody should know boundaries, I think that'd be it," he said.
Anderson was equally harsh about the DFL's response, calling it "incredibly irresponsible."
"This is exactly what incites people to violence. … It's why you have somebody who goes and attacks me on Sunday just because we have different political beliefs," she said.
The alleged assaults have both candidates weighing changes in their approach to campaigning in closing days of the race. Mekeland was unable to leave the house to knock on doors due to his sensitivity to sunlight on Tuesday. He said he and his volunteers will only travel in pairs for the rest of the campaign to ensure they are not alone during such visits, which will limit the ground they cover. Anderson said she has gotten offers from her husband and other volunteers to escort her around the district. She pledged to keep knocking on doors until Election Day.
"I refuse to be bullied and intimidated," she said. "You can't let this stop you from reaching out and talking to voters."