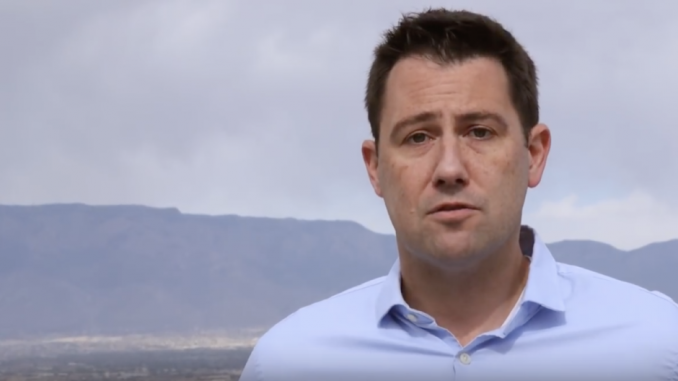 Democratic congressional candidate Pat Davis takes a vulgar shot at the National Rifle Association (NRA) in his latest TV ad — and stations are saying they're required to air it as is.
"F**k the NRA," Davis says in the first few seconds. "Their pro-gun policies have resulted in dead children, dead mothers and dead fathers. I'm Pat Davis and I approve this message because if Congress won't change our gun laws, we need to change Congress."
Widget not in any sidebars
In a statement, General Manager Bill Anderson at KRQE, a local CBS affiliate in New Mexico, announced that "federal election law" prohibits the station from editing the political ads. Instead, they plan to run a disclaimer ahead of it.
Watch the profane ad:
 [embedyt] https://www.youtube.com/watch?v=nu_7m–Ozrs[/embedyt]
According to Federal Communications Commission rules on airing profane language, "Profane language includes those words that are so highly offensive that their mere utterance in the context presented may, in legal terms, amount to a nuisance."
The f-word, for example, cannot be broadcast between 6 a.m. and 10 p.m., but the agency typically only intervenes after receiving a complaint.
"We received a request for air time from a legitimate federal candidate for office, and according to federal election rules we are required to give him the same access as his opponents," Anderson explained before continuing:
This station, by law, is not permitted to censor or in any way edit this commercial What we can control however, is the 15 seconds of air time preceding it, which we will use to warn the viewer of a possible offense, disclaim our own views, and cite the federal laws imposed on candidates and tv stations.
As for Davis, an Albuquerque city councilor who is running in New Mexico's 1st Congressional District's Democratic primary next month, he has made it clear that, "I think the only people who are going to be offended are the NRA."