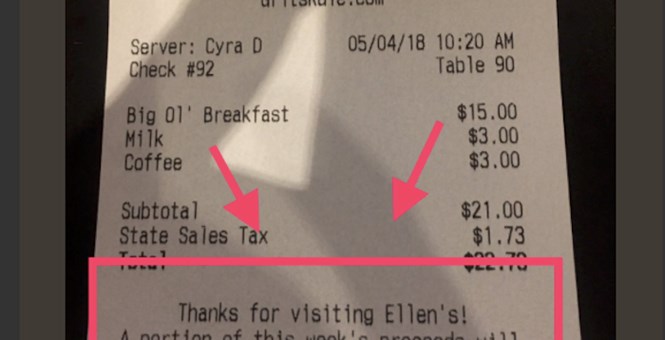 Beth wrote about this over the weekend. Apparently, Ellen's, a Dallas-based restaurant, boldly planted their flag in the Second Amendment wars by declaring that a certain percentage of their business during the National Rifle's Annual Meeting last week would go to backing "common sense" gun reforms. It's all there on the receipts:
Attn @AnnualMeetings attendees. Steer clear of Ellen's in downtown Dallas! Why go there when there are so many other great choices. 🤔#sorrynotsorry #StandAndFight #DefendTheSecond pic.twitter.com/joX7pPoPm4

— NRA (@NRA) May 5, 2018
Thanks for visiting Ellen's! A portion of this week's proceeds will be donated to organizations dedicated to implementing reasonable and effective gun regulations that protect citizens' 2ndAmendment rights and also help and reduce needless gun violence. Welcome to Dallas!
Widget not in any sidebars
It's fine that Ellen's did this, but as with anything, be prepared for the fallout. And there was one—believe me. There was one. Probably not the biggest one that God has ever created, but it was quite large. It prompted Ellen's to issue this milquetoast response via Instagram:
What a day this has been! We want to give some clarification to an issue that has caused quite a bit of confusion and anxiety.

Early this morning, we began posting a message on the bottom of our receipts stating that Ellen's intends to donate a portion of our proceeds this week toward the efforts of finding common ground and compromise in the fight to eliminate needless gun violence, especially in our schools and against our dedicated police officers.

With a limited number of characters available for that message, we simplified it to say we support "reasonable and effective gun regulations" toward that end.

What was not expected was that those two words — reasonable and effective — would be misinterpreted as our support for gun control. The mistake was an honest one. The opposite is true.

We support the Constitution, including the 2nd Amendment, 100%. And like the NRA, we also support finding solutions to the senseless killings that happen much too frequently. We believe those two things are completely compatible.

After a very courteous and informative conversation with a customer, we realized how our message could be misconstrued and we moved quickly to clarify. By then, the situation had become viral.

We believe our position is anything but controversial. Rather, it is the American way of dealing with problems. Historically, every time we have had a big challenge, we have come together — Republicans, Democrats, Conservatives, and Liberals — and put our collective brain power and dedication to the task.

No one wants children to die in their classrooms. No one wants police to be killed in the line of duty. The differences we have are in our approach. But we can fix it if we breathe, calm down, and listen to one another. As Americans, that's what we are supposed to do.
Beth included screenshots of people further ripping Ellen's for backpedaling, especially since this was done specifically when the NRA was here. There were also questions as to which organizations would get their siphoned pro-gun control money.
The New York Times reported on it. The NRA tweeted to its attendees to avoid Ellen's. Joe Groves, the owners, did not respond for a request to comment. Maybe that's because he was possibly caught red-handed. The NRA tweeted screenshots of Mr. Groves saying he would put a message at the bottom of his establishment's receipts.
.@nytimes "…the owner and founder of Ellen's, did not respond to a request for comment." The reason he is not responding is because he knows he was caught. Someone did research and found that over a month ago, the owner posted the following on Facebook. https://t.co/H85pvrkm6u pic.twitter.com/jGskowUMjk

— NRA (@NRA) May 6, 2018
"Take their money. Take as much as you can. Less funding/donations for them," said one account, whose identity was blurred out.
"I plan to," Groves reportedly replied. "It's just painful."
Widget not in any sidebars
His status from March 25 reads, "Dilemma: taking lots of NRA money in the form of group reservations while they're in Dallas, or taking a stand and telling them all to f**k off."
Yeah, I could see why he wouldn't want to comment (via NYT):
The vitriol continued on Saturday when the N.R.A. called out Mr. Groves by name in another tweet, posting screengrabs purportedly taken from his personal Facebook page that were anti-N.R.A. The group also criticized Kirsten Powers, a CNN analyst and opinion columnist for USA Today, after she tweeted that the N.R.A. was "extremist" and that the news about Ellen's made her "want to fly to Dallas for brunch."

Over the weekend, the restaurant's Facebook page was flooded with negative comments and one-star reviews.

They treated me poorly because I was an NRA member and was wearing my NRA ball cap," one reviewer wrote. "I recommend supporters of the NRA, 2nd Amendment and the US Constitution take their business elsewhere."

Mr. Groves told The Dallas Morning News that he had not yet decided which organizations would receive a portion of the restaurant's proceeds.

In its Facebook statement, the restaurant said: "No one wants children to die in their classrooms. No one wants police to be killed in the line of duty. The differences we have are in our approach. But we can fix it if we breathe, calm down, and listen to one another. As Americans, that's what we are supposed to do."
Yeah, this comes after you allegedly told Second Amendment supporters to "f**k off." This is who we're going to listen to concerning having a discussion about this after they reportedly got exposed for being allies of the anti-gun agenda. At the same time, I'm not a fan of boycotts—but that shouldn't worry NRA attendees who might have given this place their money. The donations to the NRA's political victory fund are probably much greater than Ellen's could ever muster. In war, there are casualties. Ellen's may have won this ambush, but the real fight lies ahead: the 2018 midterms. And stories like these always get the base fired up. So, in a sense, Ellen's gave an in-kind contribution to the NRA.