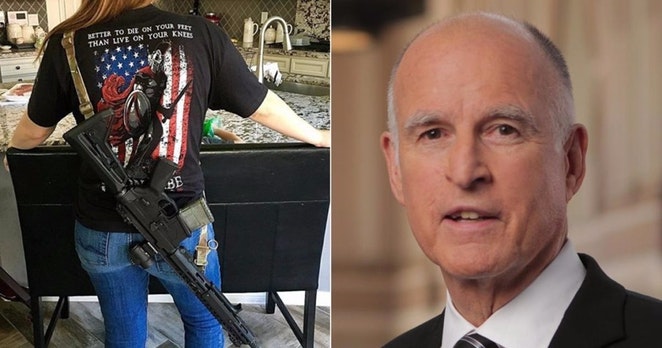 On Wednesday, the NAACP issued their first-ever travel advisory for the State of Missouri. The organization has announced that the state may not be safe for black people with, what they say, is a state full of racist law enforcement officers.
Now, patriotic apparel company, Warrior 12, has issued a travel advisory for the state of California, because it may not be safe for your guns.
Widget not in any sidebars
"The numerous gun-grabbing incidents, and the bills signed by Gov. Jerry Brown, namely the fact that guns cannot legally hold more than 10 bullets and only one long-gun can be purchased per month, are unconscionable, and are simply unacceptable in a Constitutional society," the Warrior 12 president told us.
"How do you come into California, and find yourself face-to-face with Prop 57 armed criminals, and you're unable to carry a modern firearm to defend yourself?"
Warrior 12 is referring to California's Proposition 57 which allows for the early release of "non-violent" criminals in California. The state's judgement of "non-violent" crime is any crime that's not specifically on a list of violent crimes, and some examples of their non-violent crimes include:
Assault with a deadly weapon on a peace officer

Battery with serious bodily injury

Solicitation to commit murder

Inflicting corporal injury on a child

First degree burglary

Raping an unconscious person

Human trafficking involving a minor

Participation in a street gang

Exploding a destructive device w/ intent to cause injury (yes, setting off a bomb in a public place)
"Until the earthquake creates an island for those infected with the California mind-virus, the state is probably best avoided," he concluded. "To all of our brothers and sisters in the state, now is the time to flee before it's too late."