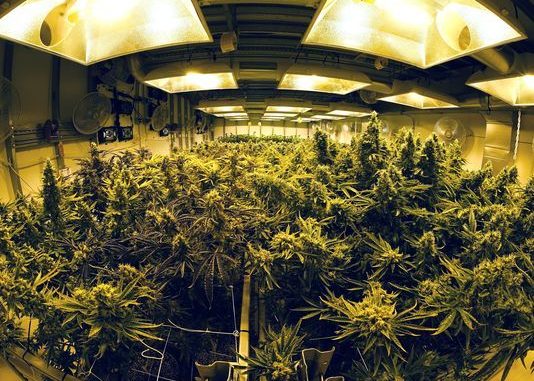 America's fast-growing marijuana industry could be poised for supercharged expansion after President Trump promised to respect state-legalized pot in a deal with a Colorado senator who had been blocking presidential nominees.
Republican Sen. Cory Gardner on Friday announced he'd received assurances from the president that federal agents would leave alone states like Colorado that have legalized recreational cannabis. Gardner had been blocking nominees to the Department of Justice since January over the issue, and on Friday relented.
"President Trump has assured me that he will support a federalism-based legislative solution to fix this states' rights issue once and for all," Gardner said in a statement.
Gardner didn't elaborate on what specific legislation Trump said he would support, although Congress is currently considering several bills that would legalize cannabis at the national level.
The country's rapidly growing marijuana industry has struggled with fears Trump's administration would alter the Obama administration's policy of letting legalized pot flourish in states where voters approved it. Many traditional investors have shied away from pouring their capital into the industry over fears they'd be treated like drug traffickers, and a strong sign of support from Trump over Congressional action might provide the reassurance they're seeking.
Mason Tvert, a longtime marijuana activist who helped lead Colorado's legalization efforts, welcomed the news. "It has been a long and difficult process, but we may now be seeing the light at the end of the tunnel," he said. "This is one more step toward ending the irrational policy of marijuana prohibition, not only in Colorado, but throughout the country."
Attorney General Jeff Sessions is widely considered hostile to cannabis, and in January he rescinded an Obama-era memo assuring state-regulated marijuana dealers that federal prosecutors would leave them alone if they followed state regulations intended to keep pot out of the hands of kids and money out of the hands of drug cartels.
 
Widget not in any sidebars

Nine states and the District of Columbia have legalized recreational pot, although not all of them regulate and permit retail sales. Today, more than 60% of Americans believe recreational marijuana should be legal, double its popularity in 2000, according to a January poll by the Pew Research Center.
Medical pot access enjoys even stronger popularity, numerous studies have found. Thirty states and the District of Columbia have legalized some form of medical cannabis, which already enjoys special protection from Congress.
A federal crackdown on cannabis risks tens of thousands of jobs and potentially billions of dollars in taxes that are already funding school construction, homelessness services and college scholarships.
Medical and recreational cannabis sales will hit $11.7 billion this year, predicts cannabis analytics firm New Frontier Data. For comparison, wine sales in the United States were worth $60 billion last year, according to the Beverage Information and Insights Group.
In January, Sessions said he was rescinding the memo to give prosecutors more discretion, which was widely interpreted as a hostile move. But because Trump during the 2016 presidential campaign said he would respect states' rights to legalize marijuana, the cannabis industry has grown increasingly frustrated with the mixed messages.
Marijuana advocates are pushing Congress to drop pot as a Schedule 1 controlled substance, which could give the industry broader acceptance, potentially opening up access to bank accounts, traditional investing and even the ability to ship products across state lines.
Many leading marijuana industry executives say they'd stopped worrying that Trump and Sessions were truly targeting their businesses.
"If Jeff Sessions wanted to shut the industry down, he could have shut the industry down," said Leslie Bocskor, the founder of Electrum Partners, a cannabis investment and advisory firm. "He doesn't want to kill it. In my opinion he's trying to say to Congress, are you paying attention to the will of the American people? Ultimately, these people are political animals. If somebody who could kill it was going to kill it, it would be dead already. And they haven't."