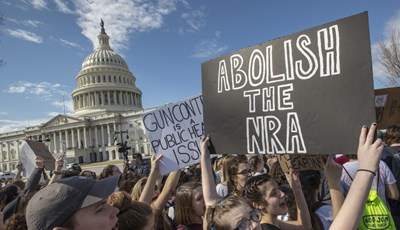 It seems leftists in the Dallas area don't want either the National Rifle Association or President Trump in town this week. Big shock, right? I mean, it's not like the anti-gun left doesn't vehemently hate both with a burning passion.
Well, unsurprisingly, there are plans in place to protest both.
There's a calm in downtown Dallas as the Convention Center gets set up for the NRA Convention.

However, a storm may be on its way.

President Trump will be speaking on Friday, and the protestors are getting ready.

"It's really scary to have this man in our city," Dominique Alexander, president of Next Generation Action Network said.

The organization is planning a protest at 6:30 pm on Friday.

Alexander says, "We are going to make sure that the NRA knows they are not welcome here in the city of Dallas," Alexander said. They are expecting thousands of people.

There is also a petition signed by more than 40,000 people asking the city of Dallas to revoke the funds it put towards hosting the convention.
Widget not in any sidebars
They really think they can pull this in Dallas, Texas? Seriously?
Oh, I have no doubt they got the signatures they said they did. And I suspect they'll get the numbers they say they will. That's not what I find incredulous.
No, what I find funny is that they think they can convince either Trump or the NRA that Texas isn't in their corner.
Texas has a reputation as the most pro-gun state in the country. Now, I argue against that description for a number of reasons, but I don't think there's any real argument that Texans don't love their guns. None at all.
Yet these anti-gunners think they can gather in a single place–probably requiring every anti-gun person in the entire state and a few from out of state–and convince the NRA and President Trump that they've lost Texas.
What's next? Trying to convince us that California is a pro-gun Mecca?
One thing we can count on is the likelihood that this will be a very peaceful protest. While the anti-gun left has a fondness for throwing rocks, bottles, and Molotov cocktails, I suspect there won't be much of that this time around. After all, this is the NRA we're talking about here. People will have guns. Rocks count as deadly weapons by most people's estimation.
Not to mention anti-gunners already think gun owners are unstable and looking for any reason to shoot people. In this case, that misrepresentation may well help keep the protest nice and peaceful.
However, let's also note how they're talking about how terrified they are that the president will be in Dallas. I'm just wondering how someone afraid of someone else's geographical location and the mere presence of people who are pro-gun is going to muster the courage to actually confront anyone they disagree with.