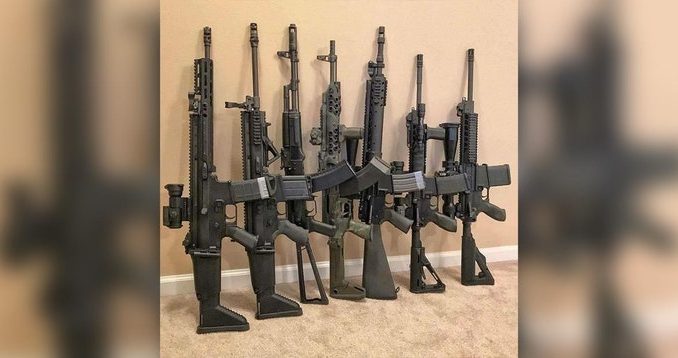 The farmer was charged with 12 felony weapons offenses after trying to comply with a new law.
Bakersfield, CA – A member of a prominent farming family was charged with a dozen weapons-related felonies, after he attempted to comply with California's state-mandated gun registration laws.
According to court documents, Jeffrey Scott Kirschenmann's home was raided in April, after he attempted to register an AR-15 using the state of California's website, KGET reported.
Widget not in any sidebars
Kirschenmann is the CEO of Scott Kirschenmann Farms, Inc., which is one of the chief potato suppliers for Frito Lay.
The businessman was attempting to comply with California's ever-tightening gun laws, one of which required gun owners to register "assault-style weapons" by the end of June.
He electronically submitted photographs of his AR-15 as part of the registration process, and soon became the focus of a California Department of Justice investigation.
According to court documents, the weapon was "illegally modified," and served as grounds for the Department of Justice (DoJ) to raid Kirschenmann's home.
It's not immediately clear what the illegal modification was, but the rifle was presumably not in compliance with the recent bans
Investigators seized two "silencers," 230 rounds of ammunition, and 12 firearms in the search, KGET reported.
On May 17, the district attorney's office charged Kirschenmann with a dozen felony weapons-related charges.
He was subsequently released on $150,000 bond.
According to retired Kern County Sheriff's Office Commander Joe Pilkington, a court-recognized firearms expert, California's rapidly-changing gun laws have created a significant amount of confusion with regards to what requirements are currently mandated, KGET reported.
Widget not in any sidebars
"Just in the last few years, there have been lots of changes in gun laws," Commander Pilkington explained. "Making an effort, a good faith effort to comply with these really complicated laws, should count for something."
He suggested that anyone who was struggling to understand the current requirements should meet with a licensed firearms dealer.
"There is this self-registration application on the Department of Justice website, but it may be better to talk to an FFL," Commander Pilkington said. "Someone who has a license, to talk through whatever these complications are.".