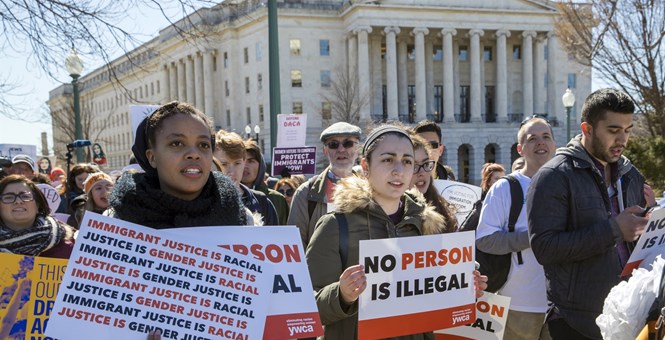 If there are two issues where the GOP Congress has crashed and burned, it has to be immigration and health care. After nearly a decade of campaigning, Republicans have yet to fully repeal Obamacare. On immigration, chatter of reform has been pervasive, though little has come of it. For the constitutionally questionable Deferred Action for Childhood Arrivals program created under the Obama White House, there's no exception. Almost a million people—800,000 to be exact—are enrolled in this program that shields illegals, most of whom were brought here as kids, from deportation if they meet the criteria (i.e. no criminal record). The Trump White House has dangled a deal like no other in front of Democrats: 1.8 million illegals would be put on a pathway to citizenship if Democrats agree to fund the border wall. On amnesty for the wall, the Democrats balked. Why? Well, the wall would be successful. The models for the proposed fortifications are at a minimum of 18 feet. Special forces and Immigration and Customs Enforcement teams tried for two weeks to scale the prototypes. They couldn't do it.
Widget not in any sidebars
The clock for an immigration deal surrounding DACA started last March when the Trump White House, facing lawsuits from a dozen or so state attorneys general, decided to phase out the program. The alternative would have been an immediate injunction, stripping 800,000 people of their protected status, leaving them vulnerable for deportation. No one in D.C. wanted that. The Trump White House added a six-month enforcement delay, affording Congress time to pass a DACA fix, which is how all of this should have been done from the get-go. Nothing happened. Now, there reportedly is new life in this push, as a new DACA fix bill has risen from the ashes—with the added bonus from backers saying they have 218 votes (via Reuters):
A bipartisan group of Republican and Democratic lawmakers scheduled a press conference on Wednesday to discuss their plans to force debate in the full House on a few different proposals for helping the estimated 800,000 immigrants.

They are expected to announce that they have more than 218 House members on board with moving ahead with a bipartisan bill.

That is the minimum number needed in the 435-member House to pass bills.

For years, Republicans have been deeply divided on immigration legislation, despite polling that shows a significant majority of voters want to help young immigrants who crossed into the United States illegally through no fault of their own.

A House Democratic aide with knowledge of the maneuverings said an announcement of the supporters was aimed at pressuring House Speaker Paul Ryan, a Republican, to move to either bring such legislation to the House floor or to intensify high-level negotiations on crafting a new compromise bill.
As of yesterday, the campaign to pressure Speaker Ryan into holding votes was ongoing:
A bipartisan majority of the U.S. House of Representatives on Wednesday urged Speaker Paul Ryan to schedule debate on bills to protect young undocumented immigrants from deportation, in a move aimed at reviving a push that sputtered in the Senate in February.

Backers said they had 240 House members on board so far pushing for debate of four different bills to replace the Deferred Action for Childhood Arrivals (DACA) program, which Republican President Donald Trump ended on March 5th.

Under the House members' plan, the measure with the most votes would win and be sent to the Senate. November's congressional elections could contribute to an already difficult path, however.
Don't bet the mortgage on this, folks. Legislative disappointment is common here.