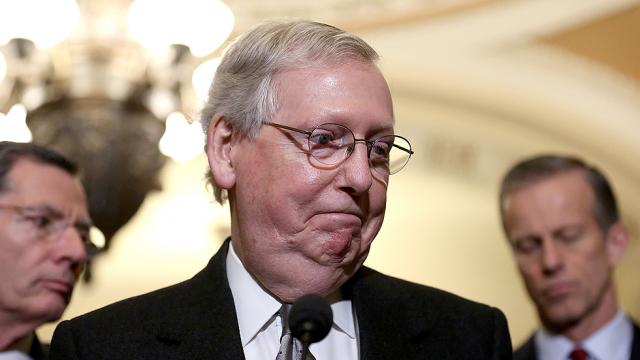 Senate Majority Leader Mitch McConnell (R-Ky.) is reportedly looking to hold longer workweeks as a way to keep vulnerable Democratic senators off the campaign trail.
White House legislative director Marc Short told a group of GOP donors this week that McConnell planned to prolong the Senate's workweek in order to reduce the amount of time vulnerable Democrats can spend campaigning, according to The Washington Examiner.
One GOP donor told the Examiner that the tactic is intended to keep Democrats, like Sens. Heidi Heitkamp (N.D.), Joe Manchin (W.Va.) and Claire McCaskill (Mo.), "tied up from campaigning."
Widget not in any sidebars
Heitkamp, Manchin and McCaskill are among a handful of Senate Democrats facing potentially tough reelection bids in states won by President Trump in 2016.
A spokesman for McConnell noted the leader has said publicly that the Senate will work longer weeks if Democrats continue to slow-walk nominees.
Last week McConnell filed cloture on six nominees and pledged to get them done that same week.
"He wasn't bluffing," the spokesman told The Hill.
McConnell's office declined to comment on whether the tactic was also meant to keep vulnerable Democratic incumbents from returning home early each week to campaign.