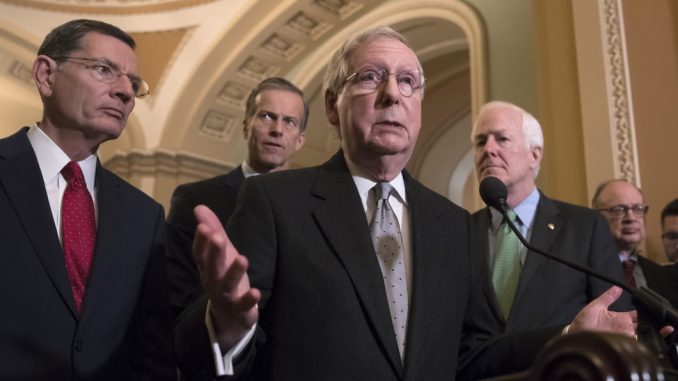 Senate Republicans, frustrated by delaying tactics imposed by Democrats on President Trump's judicial and executive branch nominees, are on the verge of altering the Senate rules in order to speed up the process.
GOP lawmakers told the Washington Examiner Tuesday that momentum is building for a change in the Senate rules that would shorten the time frame allowed for lawmakers to debate each nominee.
One proposal by Sen. James Lankford, R-Okla., would reinstate a temporary rules change made by Democrats in 2013 that reduced debate time from 30 hours to eight hours for most executive branch nominations and from 30 hours to two hours for lower judicial branch nominations.
"I think the momentum is growing steadily towards doing that," Sen. Ted Cruz, R-Texas, said after a closed-door GOP meeting Tuesday.
Widget not in any sidebars
Senate Majority Whip John Cornyn, R-Texas, said "a time limit" is under consideration in addition to other changes.
Another GOP lawmaker, Sen. Tim Scott of South Carolina, said Republicans are also weighing a requirement that the debate time include actual debate rather than just an empty chamber and a ticking clock.
"There is no reason to burn a lot of time on the floor for noncontroversial nominees just because you can," Cornyn said. "And it's slowing down the process. There are a lot of important vacancies that exist."
Cornyn pointed to two top deputy posts in the Department of Housing and Urban Development that HUD Secretary Ben Carson is eager to fill.
"It impedes his ability to do his job," Cornyn said.
The Senate Rules Committee is slated to vote soon on a measure to shorten debate time, Cornyn said.
In recent years, both parties have accused each other of delaying nominees, but the problem has escalated under the Trump administration and has slowed the confirmation process to a crawl.
Senate Majority Leader Mitch McConnell, R-Ky., is warming up to a rules change, according to fellow Republicans.
This week, he warned Democrats the Senate will not adjourn until the six nominees on the calendar are cleared. The Senate will take up more nominations next week, McConnell added.
"We've been subjected to an extraordinary level of obstruction over relatively noncontroversial nominees," McConnell said. "Hopefully we can break some of that logjam this week."
McConnell said Tuesday's confirmation of Claria Horn Boom to serve as a U.S. district judge for the Eastern and Western Districts of Kentucky underscores the strategy by Democrats to simply delay nominees.
Boon was confirmed by a vote of 96-1, yet Democrats required a procedural vote and all 30 hours of debate time to expire, dragging out the vote until Tuesday afternoon. Five more nominees are left on this week's schedule.
Lankford, in a December hearing on the matter, said partisan delaying tactics have risen dramatically in the past two decades.
Democrats shortened the debate time in 2013 after complaining Republicans were employing similar delaying tactics.
Over the years, the minority party has increasingly demanded a procedural vote to move to nominees few people oppose, setting up the much longer process of requiring 30 hours of post-cloture debate time.
Republicans point out that at this point in Trump's presidency, fewer than 390 of his nominees have cleared the Senate, a number that is lower than other presidents at this point in their tenure.
Trump's nominees are taking an average of 84 days to confirm. In comparison, former President Barack Obama's nominees required an average of 65 days to clear the Senate, and President George W. Bush's nominees took about 43 days, according to data provided by the nonpartisan Partnership for Public Service.
In response to the trend, the debate time should be permanently shortened, Lankford argued.
"As we have watched this over the last 20 years slowly go up year by year, I don't know how that turns around until this body determines that it's going to turn around," Lankford said. "Enough is enough."