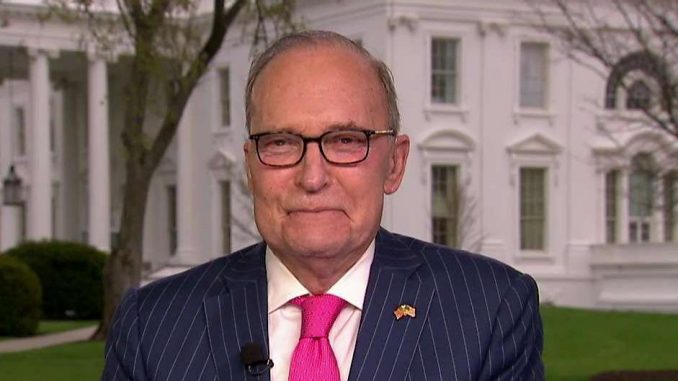 Watch the latest video at video.foxbusiness.com[embedyt] https://www.youtube.com/watch?v=yS8NNTg-XXg[/embedyt]
Larry Kudlow on trade: Trump is standing up for America
National Economic Council Director Larry Kudlow on President Trump's trade policies.
Widget not in any sidebars
President Trump's chief economic adviser Larry Kudlow blamed China's unfair practices for inciting international fears of an impending trade war between the world's top two economies, dismissing concerns the White House's imposition of tariffs worth $50 billion on Chinese goods was the catalyst.
"Blame China, not President Trump," Kudlow told FOX Business' Stuart Varney during an interview on Wednesday. "Because they've been going on for many years. Trump is really the first president to fight back."
Beijing imposed retaliatory, tit-for-tat tariffs on 106 American imports overnight, including soybeans, automobiles and chemical products in response to Washington's plans to place tariffs worth at least $50 billion on Chinese goods.
https://twitter.com/realDonaldTrump/status/981492087328792577
Although stocks fell almost instantaneously – the Dow Jones Industrial Average tumbled about 300 points, or 1.2% after the opening bell, and both the S&P 500 and the Nasdaq Composite declined by 1.2% – Kudlow warned investors to not overreact.
Already, there are back-channel talks between the U.S. and China regarding the tariffs, with "unusually good" relationships between the two countries. It could also take several months for any concrete action to be taken on the tariff proposals, Kudlow said.
But Kudlow, a self-described Reagan supply-side economist who favors free trade, also hinted at a possibility of no tariffs at all. Trump, he said, supports free trade and wants to solve unfair trade balances "with the least amount of pain."
"Trump is putting his cards on the table, he's standing up for this country," he said. "But he's also standing up for better world trade. President Trump regards himself as a free trader. I do too. But the path to free trade, real free trade, must include tremendous reforms and stopping these illegal and unfair trade practices."