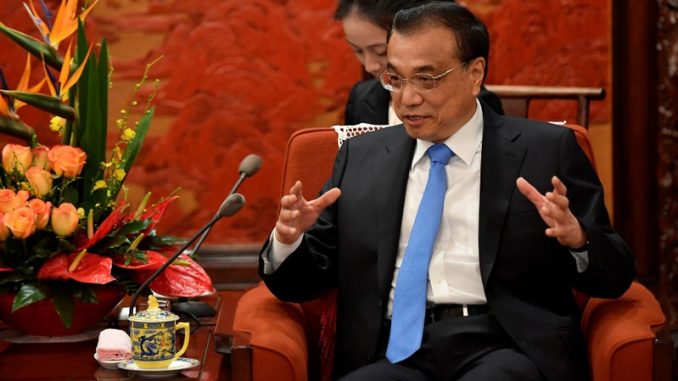 April 27, 2018
BEIJING/SHANGHAI (Reuters) – China is open to negotiating with the United States to resolve trade tensions, Premier Li Keqiang was quoted as saying by state media late on Thursday, noting that the countries should manage their conflicts through dialogue.
Li made the remarks at a meeting with U.S. Secretary of Transportation Elaine Chao, state broadcaster China Central Television (CCTV) said.
U.S. Treasury Secretary Steven Mnuchin is due to lead a delegation to China for talks intended to ease trade tensions.
President Donald Trump has threatened a new round of tariffs on $100 billion worth of Chinese products that could target mobile phones, computers and other consumer goods. China retaliated against an initial round of U.S. tariffs on $50 billion in Chinese exports.
"There is no winner in trade conflict, which will not only affect the recovery of the world economy but also the global industrial chain," Li said in comments reported by the official Xinhua news agency.
"It is also what the international community expects from our two countries," he said.
Larry Kudlow, Trump's top economic adviser, who will join Mnuchin's delegation in Beijing, said on Thursday he hoped the talks with China would yield progress but that resolving U.S. complaints would be "a long process."
Trump said earlier this week the United States had a "very good chance" of striking a deal with China over trade.
Xinhua cited Li as saying he hoped the two countries would be able to "manage and control" their differences.Trump has criticized China for raising trade barriers against U.S. companies, including high import tariffs in sectors like autos.
Li added China would "unswervingly open further to the outside world", reiterating President Xi Jinping's assurances over about the country opening more widely to trade.
"China also stands ready to promote cooperation with the United States in transportation, such as autonomous driving," Li said. China recently announced plans to remove caps on foreign ownership of domestic auto ventures and to cut import duties.
Chinese companies including Baidu Inc <BIDU.O> are pushing hard in self-driving vehicles, increasing competition for more established U.S. names such as Waymo, the self-driving arm of Google parent Alphabet <GOOGL.O>, and Tesla Inc <TSLA.O>.
(Reporting by Beijing Monitoring Desk and Adam Jourdan in SHANGHAI; Editing by Nick Macfie and Eric Meijer)