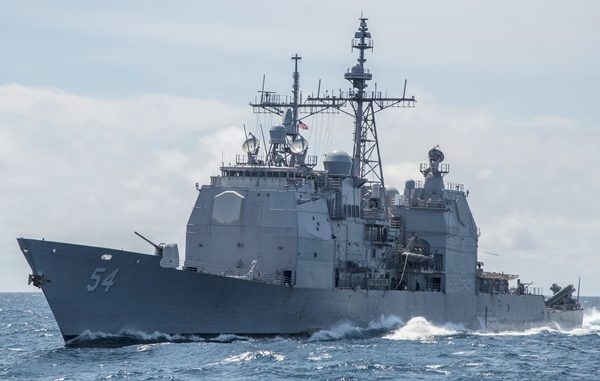 China said it drove away a U.S. Navy warship that sailed close to a Chinese-occupied feature in the disputed South China Sea, in the latest show of tensions between the countries amid their escalating trade war.
"The U.S. Navy's Decatur missile destroyer arbitrarily entered the waters adjacent to an island reef in the South China Sea," the Ministry of National Defense said in a statement Tuesday. "The U.S. ship was identified and verified according to the law, and warned it and drove it away."
The vessel, the USS Decatur, was sailing on Sunday morning "in the vicinity" of Gaven Reef in the South China Sea when a Chinese destroyer approached it in "an unsafe and unprofessional maneuver," said Lieutenant Commander Tim Gorman, a spokesman for the U.S. Pacific Fleet.

Widget not in any sidebars

The Chinese warship conducted a series of increasingly aggressive maneuvers accompanied by warnings for the Decatur to leave the area, Gorman said in an email. The destroyer "approached within 45 yards of Decatur's bow, after which Decatur maneuvered to prevent a collision," he said.
While the operation was reported by CNN on Sunday, the details about the confrontation emerged Tuesday morning Asia time. The Nikkei 225 Stock Average retreated from an intraday high, after closing Monday at its highest level since 1991. The index was little changed as of 12:30 p.m. Tokyo time.
Beijing last month also refused a U.S. warship entry to Hong Kong, and its top naval officer canceled a high-level meeting with his U.S. counterpart. The heightening military and diplomatic tensions comes as trade negotiations between the two nations are at an impasse.
'Firmly Opposed'
Gaven Reef is one of seven Chinese-claimed outposts in the Spratlys chain. China has reclaimed 3,200 of acres of land in the features and built ports, runways and other military infrastructure.
Beijing claims more than 80 percent of the South China Sea, based on a 1947 map showing vague dashes — the so-called nine-dash line. Five other countries — including Vietnam and the Philippines — have also staked claims in the area, one of the world's busiest shipping routes. An international arbitration panel in the Hague ruled in 2016 that China's claims have no legal standing.
The U.S. carries out freedom of navigation operations by sending Navy ships and aircraft near disputed waters to demonstrate the right to travel through what it considers international waters and airspace. Such operations need to be within 12 nautical miles of an island or territory to constitute a challenge under international law.
Widget not in any sidebars
The Chinese defense ministry said the Decatur's actions — and previous U.S. sail-bys — threaten its sovereignty and security. In addition, they were "seriously undermining the relations between the two countries and the two armed forces, and seriously endangering regional peace and stability," it said. "The Chinese army is firmly opposed to this."
Gorman said that the U.S. would "continue to fly, sail and operate anywhere international law allows."