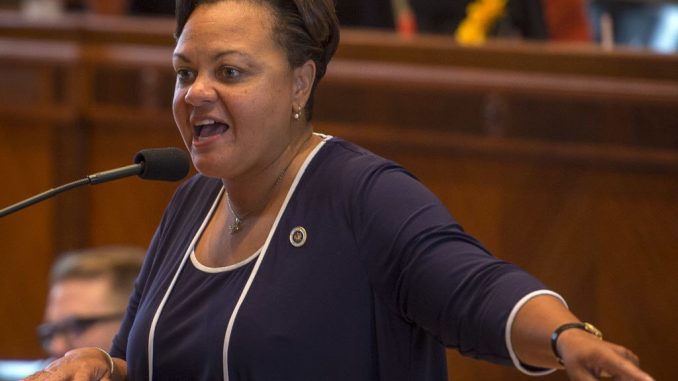 The Vice Chair of Civic Engagement and Voter Participation of the Democratic National Committee has called for the repeal of the Second Amendment.
Louisiana Democratic Party Chairwoman Karen Carter Peterson on Tuesday issued a four-word tweet as she shared a link to a New York Times op-ed written by former Supreme Court Justice John Paul Stevens that advocated for the Second Amendment's repeal.
"Repeal the Second Amendment," she tweeted.
https://twitter.com/TeamKCP/status/978636439620644866
The Louisiana Democrat's tweet caused Louisiana Democratic Party Executive Director Stephen Handwerk to run for cover.
Handwerk said the party is "a strong supporter of the Second Amendment that protects Americans' rights to bear arms," according to the USA TODAY Network.
Handwerk was asked whether the tweet reflected the Democratic Party's position.
"Of course not," he replied.
Peterson, who serves as a Louisiana state senator, was asked by several news organizations to expand upon her position, but, as reported by the Washington Free Beacon, she did not reply to requests for comment.
Widget not in any sidebars
However, Rep. Ralph Abraham, R-La., who is a potential challenger to Democratic Louisiana Gov. John Bel Edwards, had plenty to say.
"I am a staunch supporter of the Second Amendment. It is a core right that's guaranteed to us by the Constitution," Abraham said. "I am very troubled that the head of the Louisiana Democratic Party would support something as radical as the repeal of this right that so many in our state and nation cherish and exercise lawfully."
"Her statements should make everyone question just who the Democratic Party stands for: average Americans or the extreme left?" he said.
Peterson's comments struck a nerve with many people on Twitter.
The Bill of Rights is to limit government, not the people. Those rights are given to us by God, not you. You took an oath to faithfully defend the Constitution of The United States. I did too. You are in violation of that oath and WILL be removed from office.

— Silence_Dogood (@WPSilenceDogood) March 30, 2018
I solemnly swear (or affirm) that I will support and defend the Constitution of the United States against all enemies, foreign and domestic; that I will bear true faith and allegiance to the same. I guess you forgot about your Oath of office. #Trump2020 #NRA

— Funnylookinwhitedude (@funnylookindude) March 29, 2018
In the op-ed published by The New York Times, Stevens called for "legislation prohibiting civilian ownership of semiautomatic weapons, increasing the minimum age to buy a gun from 18 to 21 years old, and establishing more comprehensive background checks on all purchasers of firearms."
He also said the Second Amendment is out of date and should be repealed.
"Concern that a national standing army might pose a threat to the security of the separate states led to the adoption of that amendment, which provides that 'a well regulated militia, being necessary to the security of a free state, the right of the people to keep and bear arms, shall not be infringed.' Today that concern is a relic of the 18th century," he wrote.