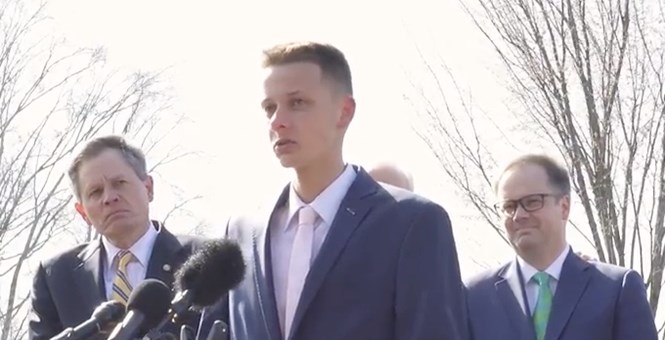 This past weekend's 'March for Our Lives' represented a massive demonstration in favor of gun reforms and restrictions, some of which are supported by substantial majorities of a broadly pro-gun public.  Among the featured speakers at major rallies across the country were Parkland survivors and other young people whose lives have been touched by gun violence — which, despite the understandable urgency of the current movement, has fallen drastically in recent decades, even as gun sales have soared.  Engagement and activism on important issues should be applauded, but ugly demagoguery should be discouraged, not rewarded.  As long as voices like this continue to slander people with good-faith disagreements, often totally unchallenged, resentments will deepen and fester:
"I'm going to start off by putting this price tag right here as a reminder for you guys to know how much Marco Rubio took for every student's life in Florida," Parkland survivor David Hogg says at #MarchForOurLives. pic.twitter.com/i54QSygI4C

— BuzzFeed News (@BuzzFeedNews) March 24, 2018
Rubio has actively thrown himself into this debate since the Valentine's Day massacre in Florida, seeking common ground to enhance school safety, to fix problems with existing laws on background checks, to address the mental health component of the mass shooting problem, and to entertain or even propose some changes on gun policy.  His work has been greeted with silence from much of the press and appalling smears from the likes of Hogg, whose fixation on attacking Republican politicians appears to be an overwhelming priority.  It's almost as if making progress isn't what some people are after.  Rubio, for his part, continues to take the high road, supporting anti-gun students' right to protest while politely disagreeing with some of their aims:
Today many are peacefully exercising their #1A right to march for gun ban. Many support gun ban. But many others see it as infringement of #2A that won't prevent shootings. Protest is good way of making a point,but making a change will require both sides finding common ground

— Marco Rubio (@marcorubio) March 24, 2018
Some have objected that the March for Our Lives wasn't about a "gun ban," but Second Amendment supporters' suspicions about ulterior motives have been confirmed by moments like this, and explicit admissions like this:
"When they give us that inch, the bump stock ban, we will take a mile" – the current speaker at the #MarchForOurLives

— Stephen Gutowski (@StephenGutowski) March 24, 2018
If the goal is to come together and find ways to save lives by generating compromises in favor of smart, rights-protecting solutions, casting the other side as bought-off murder-enablers while confirming the existence of — and indeed openly greasing — the 'slippery slope' your opponents fear, is deeply counter-productive.  Again, one might reasonably draw the conclusion that fostering viable solutions isn't the objective for some of these individuals.  It is also undeniable that the media overwhelmingly supports the anti-gun protest movement, playing a significant role in marginalizing dissenting voices, including among people who should enjoy at least as much 'absolute moral authority' on these issues as any of the celebrified liberal students.  If someone weren't paying attention to conservative media outlets, he or she would likely have no idea that nearly all families of the Parkland students who were killed last month endorsed a bill passed by the Republican Congress.  And those who attended Saturday's rallies or tuned into wall-to-wall media coverage didn't hear many perspectives like these (content warning):
Here are some speakers you will not hear a the March For Our Lives tomorrow.

1. Andrew Pollack, father of Meadow Pollack, who was murdered shielding her fellow classmates

2. @KyleKashuv pic.twitter.com/oTLzJtvJSy

— Benny (@bennyjohnson) March 24, 2018
Kashuv hid in a closet during the rampage, after hearing gunshots ring out.  Is his 'survivor' status less meaningful than his more prominent schoolmates' experiences, some of whom were significantly farther away from the location of the shooting?  Do the opinions of Andrew Pollack, whose daughter was murdered that day, count?  Or are we only supposed to listen the chorus that's singing from from the same ideological playbook?  Also, must angry blaming and chanting be reserved for the NRA, as opposed to the individuals whose dereliction or incompetence directly failed to prevent the Florida school shooting?  Another Parkland student, who lost his sister in the killing, has also struggled to make his views heard — and, like Kashuv, has not been offered the same platforms as his anti-gun peers, many of whose trauma and losses were far less direct and personal than his own.  Watching those activists invoke his late sibling's memory to push an agenda that he does not, and she did not, support has been infuriating:
Hey @Emma4Change please stop using my sister's name to push your agenda, she DID NOT and WOULD NOT support it

— Patrick Petty (@PatrickPetty23) March 24, 2018
Petty's father has been faithfully lobbying lawmakers from both parties to institute policy changes since his daughter was stolen from him, reaping some significant legislative successes.  But in far too many cases, hard, bipartisan work has taken a back seat to emotional and partisan pronouncements.  And every man has a breaking point:
https://twitter.com/rpetty/status/977877597387411461
This man does not believe it's right to demonize the NRA or NRA-supported political figures in connection with the violent death of his daughter.  He seems disgusted by the dark irony of the abortion lobby polluting this hallowed ground with placards purporting to care about children's lives.  And he appears barely able to contain his anger over being told who "speaks for" his slain child.  Can you blame him?  I'll leave you with this:
"A USA TODAY/Ipsos poll taken after the Parkland shooting found fewer than half of students 13 to 17 think tightening gun laws and background checks would prevent mass shootings." https://t.co/Wl7qx5Mv0c

— Guy Benson (@guypbenson) March 25, 2018
Not all members of "Generation Columbine" cling to the rhetoric making household names out of some of their peers, those students calling for tighter gun control after the deadly Feb. 14 shooting at Marjory Stoneman Douglas High School in Parkland, Fla. Many American high schoolers do not blame school shootings on guns and don't argue the answer is tighter restrictions on firearms. It's a view at odds with many of their classmates, yet born from the same safety concerns…As gun-control advocates their age gain popularity and others cast their generation as anti-firearm, pro-gun students feel at times overlooked. But polling suggests young people aren't overwhelmingly for gun control…A USA TODAY/Ipsos poll taken after the Parkland shooting found fewer than half of students 13 to 17 think tightening gun laws and background checks would prevent mass shootings…Pro-gun high school students told USA TODAY the school shooting problem is complex, but they maintain guns aren't the problem. They say more can be done as it relates to school security, mental health and background checks. Some argue those calling for gun control are uninformed about and unfamiliar with firearms.
Good for USA Today for writing this piece and reporting on their polling, which exposes some bumps in the "young Americans want gun control" narrative.  Are there any richly-bankrolled, star-studded marches for the vast legions of teenagers who aren't interested in joining gun control pep rallies to attend?  And shouldn't we be reassuring kids that school shootings are not on the rise, statistically, in spite of all the media attention?  Or is fear-mongering and exaggerating threats acceptable when it's politically useful to one side, but not the other?