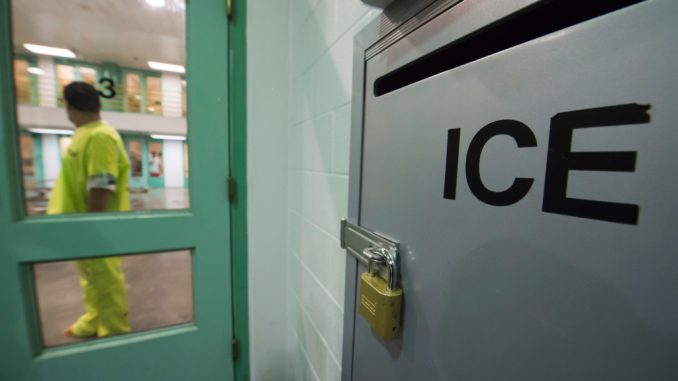 Orange County leaders voted Tuesday to join a Trump administration lawsuit against California over its law aimed at protecting immigrants from stepped-up deportations.
The all-Republican Board of Supervisors in the county of 3.2 million people made the decision in a closed 3-0 vote. It took place ahead of a raucous public debate about another proposal targeting the California law — whether to support an effort by the small city of Los Alamitos in Orange County to opt out of the policy.
California Attorney General Xavier Becerra told KPCC that local jurisdictions must follow state law.
"A local jurisdiction, whether it's a county or a city, will have to be able to explain if it decides not to follow state law, why it doesn't — and of course, any time you don't follow the law, you're going to be subject to the penalties that might be part of that law," Becerra said.
Widget not in any sidebars
Residents and activists on both sides lined up to speak at the Orange County meeting. Some held American flags and signs reading "Support Our Constitution" as they thanked the supervisors for taking a stand against illegal immigration. Others decried what they called a racist, anti-immigrant position aimed at gaining votes, not public safety.
The California law bars police in many cases from turning over suspects to federal immigration agents for deportation.
"This legislation prevents law enforcement from removing criminals from our community and is a threat to public safety," Supervisor Shawn Nelson said before the vote.
Outside, several dozen immigrant advocates played music and held signs with slogans such as "Set Our People Free" and "Melt ICE" to urge supervisors not to join the U.S. lawsuit.
"Orange County has moved forward over the last decade, and what supervisors are doing today is moving us back to a hateful time," Salvador G. Sarmiento, legislative director for the National Day Laborer Organizing Network, told reporters.
The county's vote comes after it moved this week to improve communication with federal immigration agents by publishing the release dates of inmates online.
PRESS RELEASE: SB 54 prompts OCSD to publicly post inmate release dates. Beginning today, the Orange County Sheriff's Department will make publicly available inmate release dates through the existing "Who's in Jail" online database. pic.twitter.com/gKq0Xbj3oP

— OC Sheriff, CA (@OCSheriff) March 26, 2018
The sheriff's department used to screen inmates in the county's jails to help Immigration and Customs Enforcement agents identify those subject to deportation but had to stop when the state law passed.
Orange County, which is home to Disneyland and wealthy beach communities where many people vacation, has a five-member Board of Supervisors, and all are Republican.
While Republicans still outnumber Democrats in the county, Democrats have gained significant ground in recent years, and Hillary Clinton won more votes than Trump in the 2016 presidential election.
California, a liberal state that is home to more than 10 million immigrants, passed its so-called sanctuary law last year to limit local police collaboration with U.S. immigration authorities.
Supporters argue that the measure would encourage immigrants to report crime without fearing deportation, while critics say local police should provide more assistance to federal authorities.
Officials in Los Alamitos, a community of about 12,000 people 20 miles (32 kilometers) southeast of downtown Los Angeles, raised constitutional concerns about the law and sent letters to other cities seeking their support.
Legal experts and immigrant advocates have said cities can't simply opt out of state law and will face lawsuits if they try.
Sameer Ahmed, a staff attorney at the American Civil Liberties Union of Southern California, said some cities appear to be discussing largely political resolutions, not local laws like Los Alamitos. But the idea that Orange County would consider taking such a stand is concerning to immigrant advocates, he said.
"We definitely think it is wrong, and offensive as well, that these cities and the county are saying they would rather further the anti-immigrant agenda of the Trump administration than protect the rights of their own immigrant residents," he said.
In revolt of California sanctuary law, O.C. Sheriff's Department makes inmate release dates public