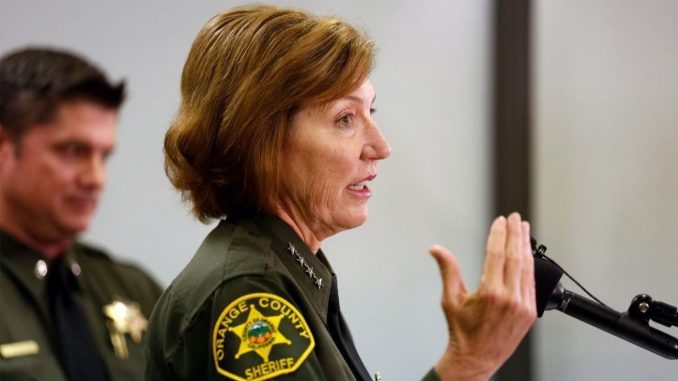 The Orange County Sheriff's Department on Monday made the release dates of jail inmates — including those in the country illegally — publicly available online, marking the latest local revolt against California's so-called sanctuary laws.
Undersheriff Don Barnes said the action is in response to the harms done to the community under Senate Bill 54, which became law on Jan 1. and restricts local law enforcement's cooperation with federal immigration authorities. Barnes and Sheriff Sandra Hutchens vocally fought against it.
"We have an obligation to safeguard our community, and we will use every tool available to help hold criminals accountable," Barnes said Monday. "Our inability to relinquish these individuals to the custody of (Immigration and Customs Enforcement) causes them to be returned to the communities which they prey upon."
An ICE spokeswoman declined to comment on the change.

Widget not in any sidebars

Several municipalities in Orange County are voicing objections to the state's sanctuary movement, which has wide support among elected officials in left-leaning California. Leaders of tiny Los Alamitos voted last week to exempt the city from SB 54.
"SB 54 makes local law enforcement's job more difficult and requires bureaucratic processes that could allow dangerous individuals to fall through the cracks of our justice system," Hutchens said in a statement. "My department, however, remains committed to cooperating fully with federal authorities in all areas where I have discretion to remove serious criminals from our community."
From Jan. 1 to March 19, the Sheriff's Department released 172 inmates in the country illegally into the community because state law prohibited them from notifying ICE, said Carrie Braun, a department spokeswoman. It's unclear if any of those people — whose convictions include domestic violence, theft, multiple DUIs and criminal threats — have gone on to commit other crimes.
"ICE is going out and actively looking for them," Barnes said. "It would be easier for everyone involved and safer for the community and law enforcement if they were relinquished to the custody of ICE rather than returned to the community."
In that same time period, 168 other inmates with more serious convictions did meet the requirements and were turned over to immigration agents as the law allows.