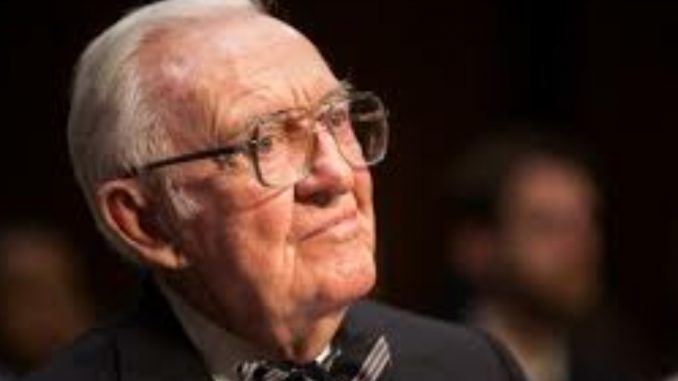 John Paul Stevens, the 97-year-old retired Supreme Court justice, is calling for the repeal of the Second Amendment and is encouraging anti-gun protesters to do the same.
Stevens, once the leader of the court's liberals, said the "schoolchildren and their supporters" who have been demonstrating against school shootings should "seek more effective and more lasting reform."
"They should demand a repeal of the Second Amendment," Stevens wrote in an op-ed for the New York Times on Tuesday.
Stevens argued that the amendment – which states that "a well-regulated militia, being necessary to the security of a free state, the right of the people to keep and bear arms, shall not be infringed" – is a "relic of the 18th century."
Repealing the Second Amendment, he argued, is the most effective way to stop school shootings. Stevens retired from the court in 2010.
"That simple but dramatic action would move Saturday's marchers closer to their objective than any other possible reform," Stevens said. "It would eliminate the only legal rule that protects sellers of firearms in the United States — unlike every other market in the world."
Repealing the Second Amendment would be extraordinarily difficult for anti-gun activists to do. That would require both houses of Congress proposing the amendment with a two-thirds vote, or two-thirds of state legislatures calling on Congress to hold a constitutional convention. It would then have to be ratified by three-fourths of the states or state legislatures.
In his op-ed, Stevens also railed against the 2008 Supreme Court District of Columbia v. Heller decision that established an individual right to bear arms.
"That decision — which I remain convinced was wrong and certainly was debatable — has provided the NRA with a propaganda weapon of immense power," Stevens said. "Overturning that decision via a constitutional amendment to get rid of the Second Amendment would be simple and would do more to weaken the NRA's ability to stymie legislative debate and block constructive gun control legislation than any other available option."
Chris Cox, executive director of the National Rifle Association Institute for Legislative Action, said in a statement Tuesday that the gun-control lobby is "no longer distancing themselves from the radical idea of repealing the Second Amendment and banning all firearms."
Widget not in any sidebars
"The men and women of the National Rifle Association, along with the majority of the American people and the Supreme Court, believe in the Second Amendment right to self-protection and we will unapologetically continue to fight to protect this fundamental freedom," Cox said.
There has been a renewed push for gun control since February's school shooting in Parkland, Fla. But there has been no serious push by Democrats to repeal the amendment.
But speaking to conservatives last month, President Trump said he believes Democrats would try to repeal the Second Amendment if they take back control of the government.