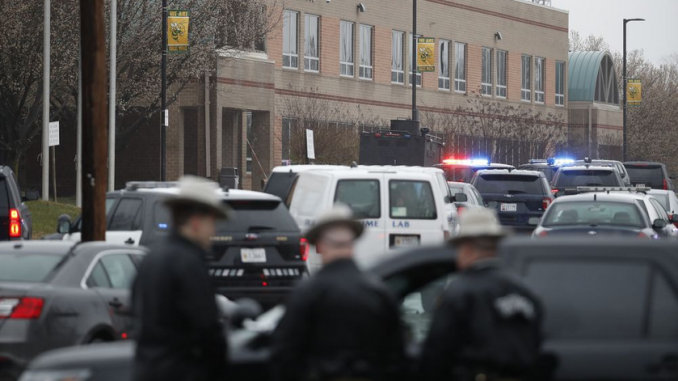 A shooting has occurred at Great Mills High School in Great Mills, Maryland. Multiple injuries have been reported and several people have been taken to a local hospital. The Sheriff's Department is telling parents to steer clear of the school and drive another 15 minutes to Leonardtown High School instead for more information and to be reunited with their children.
A single shooter fired at a female victim, according to St. Mary's County Sheriff Tim Cameron. He was quickly engaged by the school resource officer. The female victim is in critical condition, as is the shooter. Another victim was hit by gunfire and is in stable condition.
Cpl. Julie Yingling of the St. Mary's County Sheriff's Office told NBC Washington that the scene is "contained" and "no longer active." The school is still on lockdown, however, as police conduct an investigation. The Bureau of Alcohol, Tobacco, Firearms and Explosives has also responded.
Both Maryland Gov. Larry Hogan and Rep. Steny Hoyer (D-MD) said they are keeping their eyes on the situation.
We are closely monitoring the situation at Great Mills High School. @MDSP is in touch with local law enforcement and ready to provide support. Our prayers are with students, school personnel, and first responders.

— Governor Larry Hogan (@GovLarryHogan) March 20, 2018
I'm closely monitoring reports of an incident at Great Mills High School in St. Mary's County. My prayers are with the students, parents, and teachers. Please follow instruction from local law enforcement responding on the scene. https://t.co/1zsRh8W7n8

— Steny (Wear a Mask) Hoyer (@LeaderHoyer) March 20, 2018
This shooting occurs just a few days before the March for Our Lives event in Washington, D.C., organized after the mass shooting at Marjory Stoneman Douglas High School in Parkland, Florida. One of the Parkland student survivors, Emma Gonzalez, tweeted that she and her classmates were thinking of the Great Mills community.
We are Here for you, students of Great Mills 💗 together we can stop this from ever happening again https://t.co/bkzL1FcVgu

— X González (@callmeX) March 20, 2018