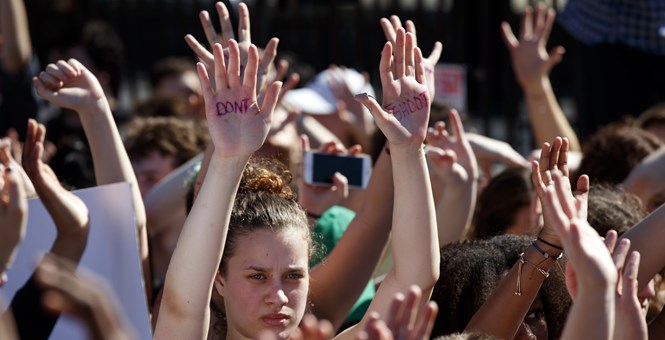 On Wednesday, thousands of students across America participated in pro-gun control school walkouts sponsored and organized by the Women's March. Some student activists in the D.C. area were even able to venture off campus and meet up with Democratic congressmen in front of Capitol Hill to promote their joint support for new restrictions on the Second Amendment.
But while gun control advocates were given pretty free reign yesterday to express their free speech rights, not everyone was afforded the same opportunity. At New Prague High School in southeastern Minnesota, senior Andy Dalsin says that he was singled out by his principal and threatened with arrest for displaying a pro-Second Amendment poster during his school's participation in the "National Walkout Day."
Dalsin told Townhall that while the school had billed its walkout as an apolitical event, he didn't believe that this was truly the case.
"They say that this wasn't politically motivated — it was purely a memorial for the victims, but by doing it on the day of nationwide gun control walkouts, they are sending the message that they support this," Dalsin said of school administrators. Dalsin agreed with the idea of paying tribute to the victims of the Stoneman Douglas school shooting, but he also wanted to express his support for gun rights.
So, during a study hall period before the walkout, Dalsin made up his sign, which read: "Guns don't kill people, people kill people. We all mourn together."
As can be seen in the photo, Dalsin got about 50 other students to sign his poster. When he went outside to participate in the walkout, Dalsin was confronted by New Prague's principal — Lonnie Seifert. School police officer John Madigan followed close behind.
As Dalsin stood in the back of the gathering holding up his sign, Seifert approached and told him to hand it over. Citing a school district policy prohibiting the "distribution" of "non-school-sponsored material," Seifert told Dalsin that he could not display the message because he had not cleared it with school administrators 24 hours in advance of the protest.
Dalsin respectfully refused to turn over his sign, arguing that he had a constitutional right to display it. Seifert then asked Dalsin to leave school grounds, to which the student also refused, once again citing his First Amendment right to express his political opinions in school (as per Tinker v. Des Moines, 1969).
Finally, Seifert upped the ante by threatening Dalsin with arrest. As the senior recalled, Seifert told him: "I'm going to have to have Officer Madigan escort you off the premises. If you don't comply, I will have him arrest you."
Realizing the seriousness of this threat, Dalsin simply replied: "I'm going to go stand outside then." As Dalsin proceeded to leave New Prague High's campus, Principal Seifert and Officer Madigan followed and escorted him most of the way until he reached a public sidewalk. For the rest of the walkout, as Dalsin recalled: "They stared me down. They watched me the whole time while I stood there."
Fearing that he might still be arrested if he went back onto school grounds too soon, Dalsin waited until only school administrators were left outside the building before returning his sign to his truck, which was on school property.
When Dalsin approached Seifert afterwards and explained that was just trying to do his part by participating in the national political dialogue on guns, Seifert justified his actions by telling Dalsin: "I'm just trying to do my job."
At least two other students with makeshift pro-Second Amendment signs scribbled on pieces of notebook paper were not asked to leave the walkout, including one that read "Unapologetically Pro-2A."
Although Dalsin is troubled by how he was treated, he places most of the blame for the incident on the school policy that the principal was citing, not Seifert himself. Dalsin believes that the rule is likely unconstitutional, especially if it really gives administrators the authority to shut down student political speech not pre-approved by school officials.
As Dalsin explained to Townhall: "The administration has no right censoring what I have to say just because I didn't get approval 24 hours beforehand." Dalsin wants New Prague's school policies to be changed and also hopes to see repercussions for the district's policy being used as an excuse to restrict his First Amendment rights.
However, in a statement released by the New Prague School District's official website, officials tried to downplay the incident. They claimed that "law enforcement was not involved with any of the students present during the walkout" and that administrators were merely trying to enforce the school policy that Seifert cited to Dalsin, which contains Orwellian language promising "to protect the exercise of students' and employees' free speech rights, taking into consideration the educational objectives and responsibilities of the school district."
Their full statement went as follows:
High School Incident Response

Yesterday approximately 100 of our high school students participated in a walkout, as did many of their peers across the country.  The walkout was conducted peacefully and without conflict.  Since then, attention has been focused on a sign that was present during the walkout.

The District has a policy that such items must be submitted to and reviewed by school administration at least 24-hours in advance.   In compliance with the District's policy "… to protect the exercise of students' and employees' free speech rights, [while] taking into consideration the educational objectives and responsibilities of the School District," the sign was moved to non-school grounds.   The District has an obligation to enforce this policy without regard to political viewpoint.

No student was disciplined and law enforcement was not involved with any of the students present during the walkout.

New Prague Area Schools fully respects and recognizes that students have free speech rights.  Those rights, however, are to be balanced against the District's responsibility to maintain a school environment focused on education.  The District's administration has an obligation to enforce the policy, which is known as a "time, place, and manner restriction."   For more information, our policy #505 can be found on our district website at npaschools.org.
Principal Seifert did not respond to a request from Townhall for comment before publication.