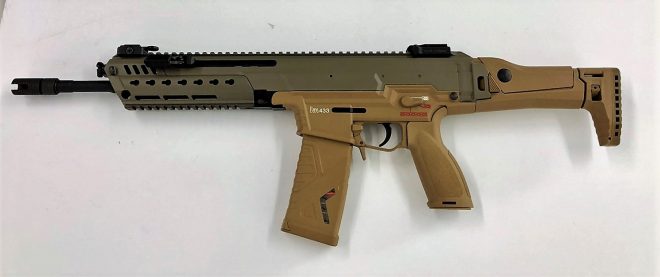 Solider Systems Daily have shared some exclusive photographs of the latest version of Heckler & Koch's newest 5.56x45mm rifle. The HK433 was first unveiled back in February last year. The HK433 is still very much in development factoring in feedback from various Bundeswehr trials it is currently taking part in.
Soldier Systems Daily bring us what is said to be Version 4 of the HK433 sporting RAL 8000 green brown color scheme, although the upper and lower shades don't match exactly due to manufacturing processes and differing materials. The rifle will be available in both the new RAL 8000 shades and the standard black.
The HK433 is a gas operated, piston-driven rifle, with an extruded upper receiver, and various barrel lengths available. It has ambidextrous controls and will be available with both AR-style and classic HK-style selector layouts. The HK433 weighs around 3.4kg/7.5lbs. It has an AR-pattern magazine well with a G36-style paddle magazine release. You can read more about the HK433 here and here.
According to Soldier Systems Daily the Version 4 is not the final incarnation of the HK433, further changes from Bundeswehr feedback will be made:
Based on this competition there are still a couple of changes in store for the HK433's Version 5. The Charging Hane will be moved a bit more to the rear because the current location can get in the way of accessories like flashlights. Additionally, the charging handle is reversible from left to right by the shooter, but H&K is going to make it just a little more difficult to do to avoid inadvertent removal.
From these new photographs it appears that Heckler & Koch's new Gen 3 polymer magazine, also introduced last week at 2018 Enforce Tac, were designed to compliment the latest version of the HK433. Note how the raised angles and textured section on the front of the magazine matches with that at the front of the HK433's magazine housing.
The HK433 is currently competing in the Bundeswehr's rifle selection trials along side the HK416 and reportedly an entry from Haenel Defence, likely the MK 556. No word on if the Steyr-Mannlicher RS556 is still involved in the trials. A rifle is due to be selected by 2019.
Head over to Soldier Systems Daily for more photos of the latest development version of the HK433 here.