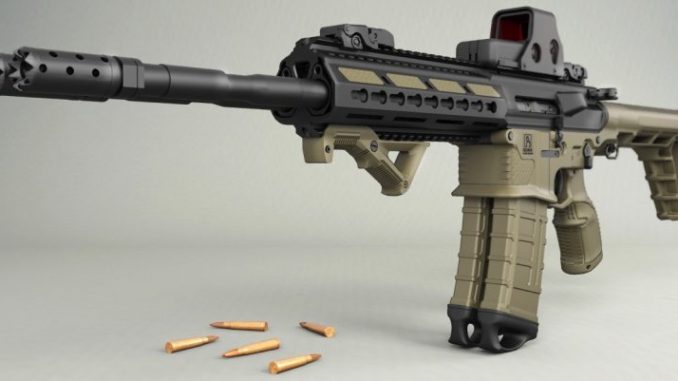 Gilboa has announced they will start full production of the double barreled AR-15, the Snake, here in the United States.   This rifle was developed in Israel as part of a series of AR variants under the brand name Gilboa.  When a pair of 16″ barrels are attached, this twin trigger rifle is legal for civilian use without a tax stamp.
History Of The Double Barrel AR-15
The concept of a double barreled rifle isn't new. Similar weapon prototypes were built in the 1950s and 1960s to fire multiple bullets at the same time or in rapid bursts known as "salvo fire." Several multi-barrel salvo weapons have been tested, but the Gilboa Snake double barrel AR-15 may be the first of its kind to enter full production.
Gilboa Snake Background
Gilboa's Snake rifle is built by the Israeli weapons manufacturer Silver Shadow. It is available as a semi-automatic civilian rifle and a selective fire model for military and law enforcement.
The select-fire variant has a pair of barrels connected to one gas block with a manual regulator.  A single piston running between the barrels synchronizes the separate bolt carriers.
The civilian variant features a pair of separate and independent gas blocks and pistons. The double trigger configuration avoids the ATF's definition of a machine gun as a firearm that fires multiple rounds with a single trigger pull. The select-fire version features a single trigger.
Both versions feature separate ejection ports that eject spent brass to both the right and left sides of the rifle. In both variants, two separate magazines feed below the rifle.
Three Picatinny or keymod rails can support a variety of optics and other accessories above and around the twin barrels.
Gilboa has built various prototypes with barrel lengths ranging from 9.5″ to 16″. Each version has included ambidextrous controls and standard AR parts.
Specifications
Caliber: .223 Rem
Weight (empty): 10 lbs, 13 oz. (4.9 kg)
Barrel Length: 9.5″, 11.5″, or 16″
MSRP: $2,200 –  $2,400
See The Double Barrel AR-15 On The Range
Guns & Ammo got their hands on an early model back in 2014. Take a closer look at this unique rifle and see it in action with the video below.