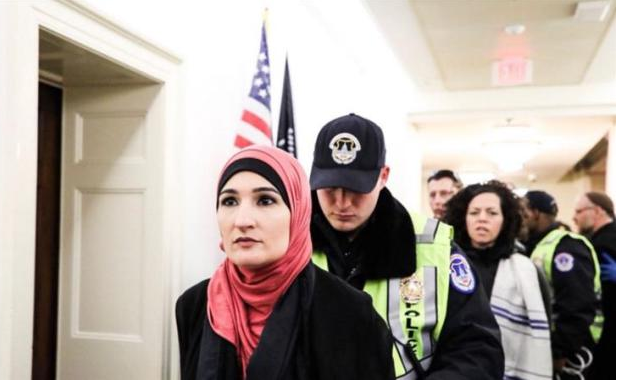 Linda participated in an act of civil disobedience in front of Ryan's office.
Muslim-American leaders have been arrested at the US Capitol while urging Congress to stand against President Donald Trump's effort to end a programme that protects certain young immigrants.
Omar Suleiman, Dawud Walid, Mujahid Fletcher, Talib Shareef and Nihad Awad of the Council on American-Islamic Relations (CAIR), Zahra Billoo, and Linda Sarsour advocated immigration reform before getting arrested on Monday.
The protesters participated in an act of civil disobedience at the office of the Speaker of the House of Representatives, Paul Ryan, demanding that he meet them to hear their concerns.
LIVE from @SpeakerRyan's office where Jewish and Muslim faith leaders have joined efforts to demand a #DreamActNow. https://t.co/rI5A6IXj5f

— CWS (@CWS_global) March 5, 2018
Dreamers
Demonstrations have taken place in major cities across the US in support of the Deferred Action for Childhood Arrivals (DACA) programme that protects young undocumented immigrants from deportations.
Fletcher, who also came to the US as a child from Columbia, said he shared the experience of the Dreamers, people who came into the US illegally as children.
"We don't want to live based on fear. We want to live according to the principles of freedom of speech, of religion," he said.
Trump has long desired to end renewal applications for the Deferred Action for Childhood Arrivals (DACA) programme. Its recipients, known as the Dreamers, were thrown into legal uncertainty after Trump moved last year to end the programme, which protects hundreds of thousands of Dreamers.
Trump gave legislators until yesterday, March 5 to come up with a replacement, before a Supreme Court ruling delayed that deadline for as much as a year.
He has been locked in bitter negotiations with Democrats about replacing the programme in exchange for a raft of immigration overhauls that would end other avenues of legal immigration.
#MuslimsForDream
Quoting Malcolm X, Talib Shareef of the Muslim Alliance of North America said: "Almighty Allah has told us to stand for justice. We are not weak in faith and we are here for a mobilization.
"We stand here in the spirit of Malcolm X with the people who are affected by these policies."
"This is creating real fear," Suleiman said, adding that the imams are fighting white supremacy because Islamophobia, racism and hostility against immigrants all stem from the same roots.