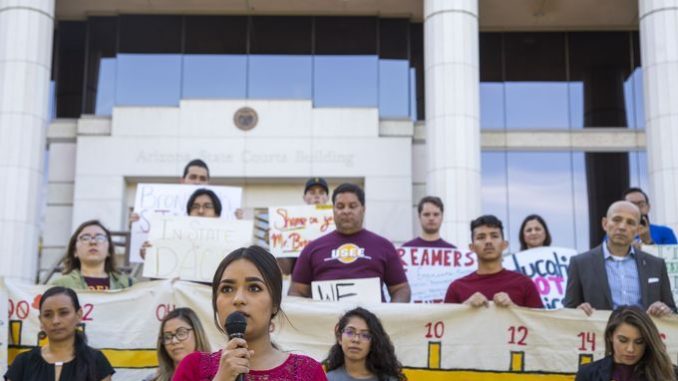 Arizona colleges can't give in-state tuition to young immigrants covered under the Deferred Action for Childhood Arrivals program, the Arizona Supreme Court ruled Monday.
The court issued a brief decision order saying justices unanimously agreed with the Arizona Court of Appeals' ruling that said existing federal and state laws don't allow the Maricopa Community Colleges to grant in-state tuition rates for DACA recipients.
A full opinion further explaining the court's ruling will be released by May 14, the order states.
The court released the order Monday to allow Maricopa Community Colleges students and the state to have as much time as possible to plan for those affected by the ruling.
More than 2,000 DACA recipients, commonly referred to as "dreamers," currently attend community college or a state university in Arizona and pay in-state rates. The ruling will make DACA recipients pay much more to attend these schools, as out-of-state rates are about triple the cost of in-state tuition.
For example, in-state students at Arizona State University will pay $9,834 for tuition next school year, while non-resident students pay $27,618. Residents pay $86 per credit hour at the Maricopa Community Colleges, compared with $241 for non-residents.
But DACA recipients may not have to pay the full non-resident rate. The Arizona Board of Regents approved a lower tuition rate in 2015 meant for non-residents who are Arizona high school graduates.
The rate is 150 percent of in-state tuition, which amounts to $14,751 next school year.
Dreamers: Paying for college now 'almost impossible'
Korina Iribe, a DACA recipient and the director of advocacy at Undocumented Students for Education Equity, said the ruling will mean fewer students at Arizona's universities and community colleges.
Iribe said she finished her undergraduate degree in August, but was hoping to get a master's degree. The ruling could mean she's priced out of that option, she said.
Widget not in any sidebars
"Unfortunately, today, a decision was made to block access to education for deserving Arizona students," Iribe said.
Karina Ruiz, the president of the Arizona Dream Act Coalition, said the group knew the ruling was a possibility, adding that it will be a massive burden for young immigrants who want a college education.
In-state tuition rates were already financially difficult because DACA recipients can't access federal or state financial aid, she said. Making DACA recipients pay non-resident rates means higher education is "going to be almost impossible," Ruiz said.
Beyond the DACA recipients, the state as a whole will be affected, she said. The students could be the next generation of attorneys or doctors, she said.
"We are an asset. We contribute. For this state to not give us a chance to continue to do so, it's wrong," Ruiz said.
The Arizona Dream Act Coalition will start raising money immediately to fund emergency scholarships for next semester, Ruiz said.
"It's a state of crisis."
Attorney general not surprised by ruling
President Donald Trump's administration announced the wind down of DACA, the Deferred Action for Childhood Arrivals policy, that President Obama enacted several years ago. This is what you should know. Sean Logan/The Republic
Arizona Attorney General Mark Brnovich said he wasn't surprised to see the ruling because his office has maintained all along that colleges and universities were violating state and federal laws by granting in-state tuition to DACA recipients.
"It's about time someone held them accountable, and that's my job. My role as AG is to make sure you're following the law," he said.
He said he's sympathetic to the DACA recipients' arguments because he's a first-generation American. But he said his job isn't to delve into policies, but to uphold the law as it's written.
"What makes this country unique and great … is because the rule of law means something," Brnovich said.
Courts had gone back and forth
Monday's ruling came quickly — the court heard oral arguments on the issue one week ago.
The justices upheld a 2017 Arizona Court of Appeals ruling that said the state hasn't specifically granted in-state tuition to the dreamer population, so the community colleges couldn't give them in-state rates.
The ruling also applied to the state's three public universities, which began charging in-state tuition after a 2015 Maricopa County Superior Court decision that said it was legal because DACA recipients had legal immigration status in the country.
Community colleges and universities continued to charge the resident rates while the case was being considered by the high court.
Another wrinkle in the argument over lawful presence and how it affects in-state tuition for DACA recipients is Proposition 300, a 2006 ballot measure that requires people to have lawful immigration status to receive public benefits.
The measure specifically includes in-state tuition as a public benefit only for people with legal status.
In its three-page order today, the court said its decision doesn't close off any measures the state could take to extend in-state tuition to Arizona high school graduates who don't have legal immigration documents.

Widget not in any sidebars

"Other states have done so," Arizona Supreme Court Chief Justice Scott Bales wrote, noting laws in Colorado, California and New Mexico.
But the ruling did note, briefly, that a potential Arizona law could be subject to the Voter Protection Act, since voters approved the 2006 ballot measure.
Colleges will work with DACA students on next steps
Matt Hasson, spokesman for the Maricopa County Community Colleges District, said the ruling was disappointing. The district is reviewing the ruling with outside attorneys to make sure it takes the "appropriate steps" to comply, Hasson said.
Officials also are working to determine what the effect will be on students and the timeline of implementing the ruling, he said.
"This ruling is troubling for the 2,000 DACA students currently enrolled in Maricopa Community Colleges. During the past five years, more than 600 DACA students earned an associate's degree or a certificate from one of our colleges and are making valuable contributions to the health of our economy," Hasson said.
The Arizona Board of Regents will no longer offer in-state tuition to DACA students "effective immediately," board chairman Bill Ridenour said in a statement.
"Without a doubt, the Arizona Supreme Court's decision today is a setback for DACA students," Ridenour said.
The board wants to provide access to higher education for all students, within the confines of federal and state laws, he said. And the board hopes Congress will act to provide lawful status for dreamers, he said.
The universities will work with currently enrolled DACA students to help them understand what the ruling means for their tuition, Ridenour said.
DACA recipients who enroll in the summer or fall semesters this year may be able to access the lower tuition rate for non-residents who are Arizona high school graduates, Ridenour said.
Students who went to Arizona high schools for at least three years, graduated from those high schools and are lawfully present in the U.S. could be eligible for the tuition that's 150 percent of the in-state rate.