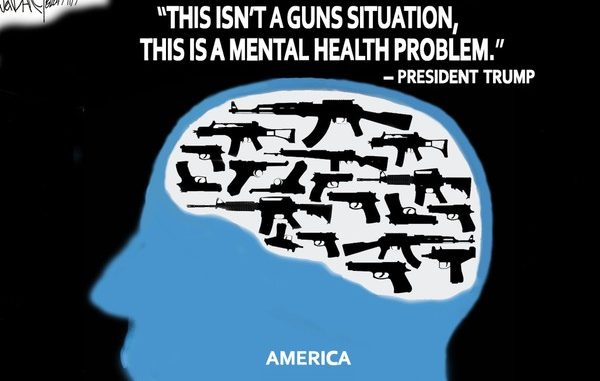 …and of course the liberals are not happy about it, as you can see by this Washington Post writers analysis
The suspected gunman in Wednesday's rampage at a South Florida high school is accused of killing at least 17 people with an AR-15 rifle that authorities say he purchased legally. But President Trump is already signaling that the deadliest school shooting since 2012 will not be an occasion to reevaluate access to such weapons, often referred to as assault rifles.
In a tweet Thursday morning, the president framed the tragedy as indicative of a mental health issue, rather than a gun-control problem.
"So many signs that the Florida shooter was mentally disturbed," Trump wrote, "even expelled from school for bad and erratic behavior. Neighbors and classmates knew he was a big problem. Must always report such instances to authorities, again and again!"
In a televised address hours later, the president repeated the phrase "mentally disturbed" and pledged to "tackle the difficult issue of mental health" but did not mention gun control.
The president's message fits a pattern in post-shooting remarks from his White House and Republicans more broadly.
In October, after a gunman in Las Vegas killed 58 people, White House press secretary Sarah Huckabee Sanders said, "One of the things that we don't want to do is try to create laws that won't stop these types of things from happening." A day later, Trump said that "number one, he was a sick and demented person," referring to the gunman, Stephen Paddock.
"One of the things we've learned from these shootings is that often, underneath this, is a diagnosis of mental illness," House Speaker Paul D. Ryan (R-Wis.) said at the time, adding that "mental health reform is a critical ingredient to making sure that we can try and prevent these things from happening."
In November, after a gunman killed 26 people at a church in Texas, Trump said, "This isn't a guns situation. … This is a mental health problem at the highest level."
In December, on the fifth anniversary of the Sandy Hook Elementary School massacre in Newtown, Conn., Sanders was asked during a media briefing about the Trump administration's efforts to prevent attacks like that one and the one in Las Vegas.
"I know that they're looking at some of the mental health issues," she replied. "It's something the president has raised before. But in terms of a specific policy that we're moving forward with that would have prevented that, I'm not aware of what that would be."
Perhaps anyone who seeks to kill people in a mass shooting is, by definition, mentally unhinged, but the suspected gunman in Florida, Nikolas Cruz, 19, appears to fit the description particularly well. Here's a bit from The Washington Post's report:
From former acquaintances at the school, a portrait emerged of Cruz as an increasingly erratic and troubled soul before he was expelled last year.

He "started progressively getting a little more weird," said 17-year-old Dakota Mutchler. Cruz, he said, was selling knives out of a lunchbox, posting on Instagram about guns and killing animals, and eventually "going after one of my friends, threatening her."
Advocates of stricter gun laws hope that each mass shooting will be the one that finally spurs Congress to act, but the early indication is that Trump will not support any such effort because, in his view, the real problem in Florida was the absence of a mental health intervention.
Source: The Washington Post
Liberals are just giddy with anticipation at the thought of eliminating the Second Amendment, with every shooting they think, pray and hope that we're one step closer!! When in reality it is this emotionally triggered response that puts people in danger, just like the creation of "gun free zones".