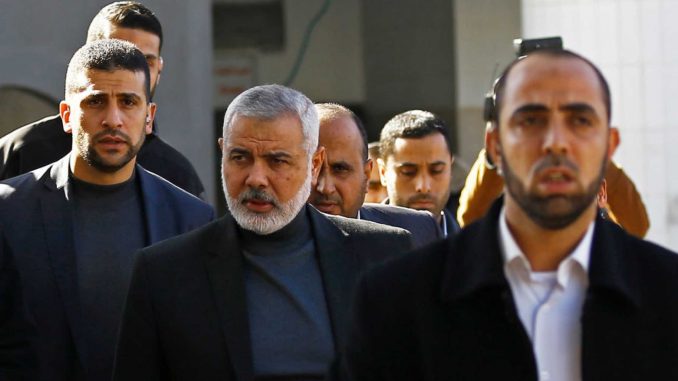 According to Fawzi Barhoum, the spokesman for the terrorist organization Hamas, Imad al-Alami, the man who was arrested in 1991 by Israel for orchestrating terror activities for Hamas, is in critical condition after he accidentally shot himself in the head.
Al-Alami was inspecting his weapon on Tuesday when it fired, according to Barhoum. The spokesman for the Hamas-run Gaza Health Ministry, Dr. Ashraf al-Qidre, said that al-Alami is being treated at the intensive care unit in Gaza's Shifa Hospital, according to the Times of Israel.
Al-Alami, born in 1956 and one of the founders of Hamas, has been the intermediary between Hamas and its supporters in the Iranian government; he was exiled from Israel in 1994, then represented Hamas in Iran for years until emigrating to Damascus in 2008. In 2012, he returned to Gaza and was elected deputy Hamas leader.
In 2014, during Operation Protective Edge when Israel went to war with Hamas after members of Hamas first murdered three Jewish teenagers, then struck Israel with rockets after Israel arrested Hamas leaders, unknown perpetrators broke al-Alami's legs, reportedly by throwing him from a high place. There were rumors that al-Alami was fighting an internecine battle with senior Hamas official Fathi Hamad.
As Foreign Policy noted:
Not only was Alami on the list of the original six Hamas officials designated terrorists by the U.S. government in 2003, he is also the point man for all of Hamas's relations with Iran and its proxies. He's made countless trips to Iran, a country that has provided Hamas with military training and billions of dollars in financial and material aid. … Alami has had a close and continuing working relationship with Hezbollah chief Hassan Nasrallah for over 20 years.
[adrotate banner="24″]

[pt_view id="517b65fj16″]
Widget not in any sidebars