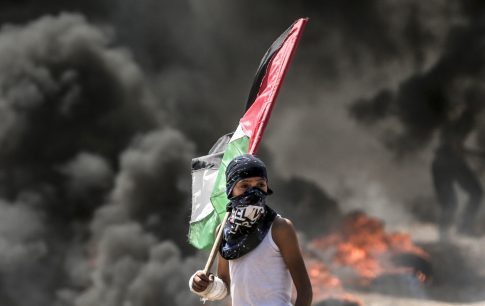 There is no hope for future peace between Israel and the Arabs who live in Gaza while Hamas rules over Gaza; the indoctrination of children as young as kindergarten age in virulent hatred for Jews and Israel has once again been clearly documented.
As MEMRI reports:
At the graduation ceremony of the Al-Hoda kindergarten in Gaza, pre-schoolers carrying mock guns and rifles simulated Islamic Jihad militants storming an Israeli building on "Al-Quds Street," capturing a child dressed in stereotypical garb as an Orthodox Jew and killing an "Israeli soldier." To the sounds of loud explosions and gunfire, the children, dressed in uniforms of the Islamic Jihad's Al-Quds Brigades, attacked the building, placing a sign reading "Israel has fallen" in Hebrew and Arabic on the back of the "soldier," who lies prone on the ground, and leaving the stage with their "hostage." Then some of the children performed on stage, with an address by Yasser Arafat playing on the speakers.
Widget not in any sidebars
MEMRI also notes, "Unlike in the past, the Al-Hoda kindergarten refrained from posting the video on social media outlets, informing the parents via Facebook that the video was available for them to collect."
For years, there have been reports of Hamas indoctrinating children with hate. Examples abound; see here, here, and here.
Video here: