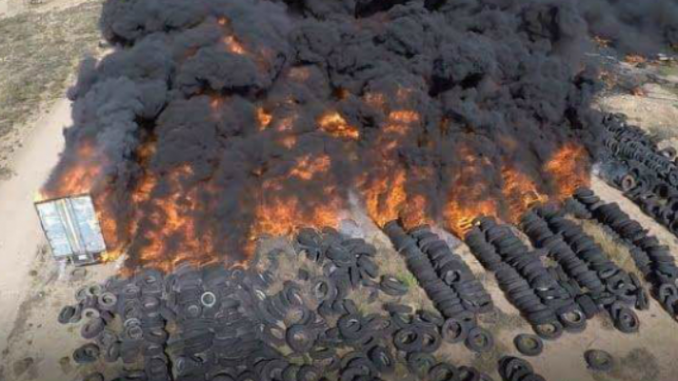 Just two days after Palestinians burned thousands of tires on the Israeli border with Gaza in violent protests, a spokesman for the Palestinian Transport Ministry complained of a shortage of tires, demanding that Israel supply more.
As part of the Hamas-led 'March of Return' protest, Gazans answered calls on social media to burn 10,000 tires on Friday in an attempt to obscure the vision of IDF troops preventing infiltrators from crossing the security fence separating Israel from Gaza.
On Sunday,  Muhammad Hamdan, a spokesman for the PA Transportation Ministry criticized Israel in an interview with The Jerusalem Post for not providing Gaza with a scarce commodity: tires.
"We have been informed by the Israeli side that imports of tires have been halted until further notice," Hamdan told The Jerusalem Post. "There is no doubt stopping tire imports will have a negative effect on Palestinians in Gaza especially considering there is a shortage of them there. We are going to exert all efforts so that Israel reverses its decision."
Widget not in any sidebars
Before the protest, Maj. Gen. Yoav Mordechai, the IDF head of the Coordinator of Government Activities in the Territories, wrote a letter to Tedros Adhanom, the head of the World Health Organization, an agency of the United Nations concerned with international public health, warning that Hamas' plan to burn a massive amounts of tires on the border with Israel on Friday would be an "ecologic catastrophe."
The IDF used large fans and water cannons aimed at the piles of tires to combat the effects of the noxious smoke.
Ofir Gendelman, an Israeli diplomat and current spokesperson to the Arab media in the Prime Minister's Office, tweeted a possible motive for burning tires almost as ironic as Hamdan's incongruous criticism of Israel's refusal to supply more.
Then Hamas will lie & say that Israel used a "new poisonous gas" against Palestinians, when in fact it was the one has INTENTIONALLY caused a cloud of TOXINS that will enngulf Gaza, as a result of its attempt this coming Friday to torch the border w/ thousands of used car tires. https://t.co/3Gc7or0lJ6

— Ofir Gendelman (@ofirgendelman) April 4, 2018
n a second tweet, Gendelman pointed out the the burning tires would create massive amounts of pollution and destroy nearby agriculture, adding to the suffering of the Palestinians. "But Hamas doesn't care,"  Gendelman noted. "Remember that."
The Coordinator of Government Activities in the Territories (COGAT, the branch of the Defense Ministry that liaises with Palestinians in the West Bank and Gaza, did not respond to a request from The Jerusalem Post for comment