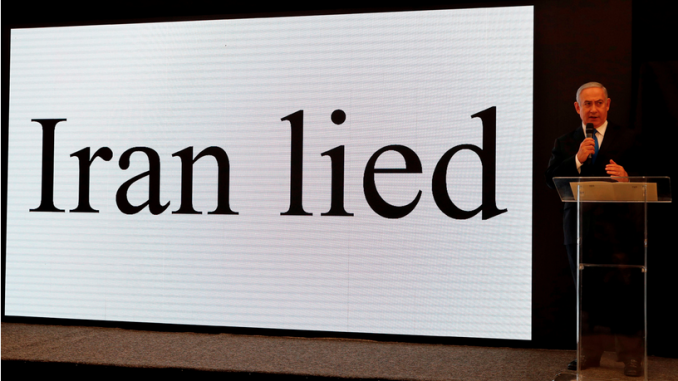 [embedyt] https://www.youtube.com/watch?v=_qBt4tSCALA[/embedyt]
Israeli Prime Minister Benjamin Netanyahu revealed new "dramatic" intelligence Monday which he claimed shows Iran is "brazenly lying" about its nuclear weapons program and shows the country is not complying with the vaunted nuclear deal it signed in 2015.
The information was obtained within the past 10 days, Israeli officials told Fox News. Netanyahu said the "half a ton" of files were moved to a "highly secret" location in Tehran after the deal was signed, and contained materials spread over 55,000 pages and 55,000 files on 183 CD's.
"These files conclusively prove that Iran is brazenly lying when it says it never had a nuclear weapons program," he said.
 
Widget not in any sidebars

Netanyahu displayed what he said was "an exact copy" of the original materials, which are now in a "very safe place" and include incriminating documents, charts, presentations, blueprints, and photos.
Speaking during a nationally televised address, Israel's prime minister said the material is filled with incriminating evidence showing the Iranian program, called "Project Amad," was to develop a weapon.
Netanyahu briefed President Trump about the intelligence on Saturday and Secretary of State Mike Pompeo on Sunday. European counterparts were made aware Monday prior to the speech, officials said.
Trump has repeatedly expressed a desire to exit the Iran nuke deal, which was signed during the Obama administration. And though he has yet to end it, a crucial deadline for re-certifying the deal is on the horizon.
"In a few days' time, President Trump… will make a decision on what to do with the nuclear deal," he said. "I'm sure he'll do the right thing, the right thing for the United States, the right thing for Israel, the right thing for the peace of the world."
In a question and answer period at the White House Rose Garden with Nigerian President Muhammadu Buhari on Monday, Trump said he'll make a decision "on or before" May 12.
"That doesn't mean I won't negotiate a new agreement," the president said, adding that "we'll see what happens."
Netanyahu's statement also came on the heels of a missile attack in northern Syria that killed nearly 26-pro-government fighters, mostly Iranians, according to a Syria war monitoring group. Israel had no comment on the strike, but there was widespread speculation that Israel was responsible. Tehran has sent thousands of Iran-backed fighters to help President Bashar Assad's forces in Syria's seven-year civil war.
Israel and Iran are arch-enemies, and Israel has said repeatedly it would not allow Iran to establish a permanent military presence in Syria. Iran has already accused Israel of carrying out another airstrike in Syria this month that killed seven Iranian military advisers and vowed revenge.
SUSPECTED ISRAELI 'EARTHQUAKE-LEVEL' SYRIA STRIKE KILLS MOSTLY IRANIANS
Pompeo on Sunday ratcheted up the Trump administration's rhetoric against Iran and offered warm support to Israel, and Saudi Arabia, in the standoff with Tehran.
"The United States is with Israel in this fight," Pompeo said.
The 2015 nuke deal gave Iran relief from crippling sanctions in exchange for curbs on its nuclear program.
Netanyahu has been a leading critic of the agreement, saying it fails to prevent Iran from gaining nuclear weapons capability and welcoming Trump's pledges to withdraw from the deal if it is not changed.
"The nuclear deal gives Iran a clear path to producing an atomic arsenal," he said Monday.
On Monday, Iran's Supreme Leader Ayatollah Ali Khamenei said the time when Iran's enemies can "hit and run" is over.
"They know if they enter military conflict with Iran, they will be hit multiple times," he said, according to his website. He did not specifically refer to the latest attack in Syria.
Michael Oren, a senior Israeli official, had no comment on the airstrike in Syria, but warned both Syria and Iran against trying to attack.
Widget not in any sidebars
"If someone shoots at us, we shoot back and we will shoot back either at the Syrian army or the Iranians, at the origin of the aggression," Oren said.
The Knesset — the Israeli Parliament — voted after Netanyahu's speech on Monday in favor of a bill that would allow the prime minister to declare war with only the defense minister's approval, in extreme situations. A declaration of war could only previously be ordered by the security cabinet.
Netanyahu spoke with Russian President Vladimir Putin, German Chancellor Angela Merkel and French President Emmanuel Macron Monday night.
The prime minister said he'd send representatives to Germany and France soon to show them the information that was presented Monday. He said he also plans to speak with leaders in China and the U.K.
The prime minister and Putin also spoke about the recent events in Syria and agreed to meet "very soon."
Deputy Foreign Minister Threatens Iran's Withdrawal From Nuclear Deal