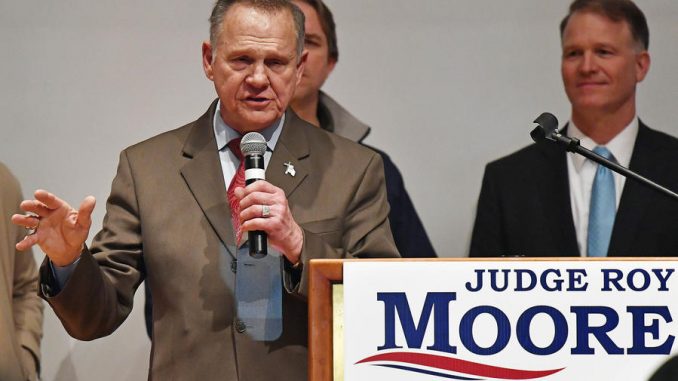 (
LATIMES
) Roy Moore declined to concede defeat Tuesday night in the Alabama Senate election even after Democrat Doug Jones declared victory.
"It's not over, and it's going to take some time," Moore said, citing the narrow margin between him and Doug Jones in the preliminary count.
Appearing downcast at his election night party in Montgomery, Moore quoted Scripture and bemoaned attacks during the campaign.
"Part of the problem with this campaign is we've been painted in an unfavorable and unfaithful light," he said. "We've been put in a hole, if you will."
Alabama Secretary of State John Merrill, a Republican, told CNN that he would certify the final vote count between Dec. 26 and Jan. 3.
With votes from 100% of Alabama's election precincts counted late Tuesday night, Jones was nearly 21,000 votes ahead of Moore.
"There's always a chance of a recount because any candidate can ask for a recount, and if they pay for it, they can receive a recount," Merrill said.
A mandatory recount is triggered if the margin between the candidates is narrower than a half percentage point, he said. But the count Tuesday night had Jones leading by 1.5 percentage points: 49.9% to 48.4%.
Military ballots and provisional ballots will be counted over the next week, Merrill said, and write-in ballots must be reviewed to make sure the candidates were qualified to be tallied.
Moore campaign officials said a review of write-in ballots could narrow the margin enough to trigger a mandatory recount.
[adrotate banner="24″]

[pt_view id="517b65fj16″]