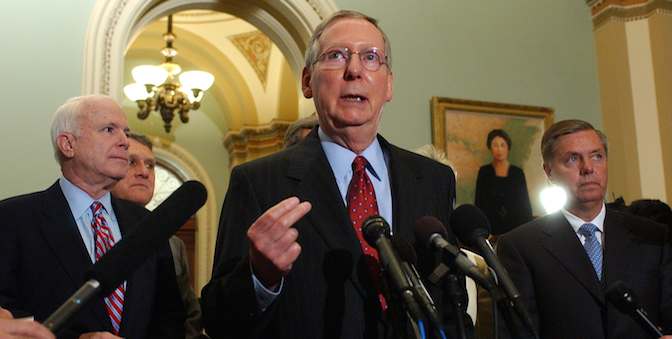 Mitch McConnell may have opened a can of worms with the Alabama senate race. The actions of the GOP establishment have become so desperate and obvious that the average voter is now standing there scratching their heads.
We have now had 2 consecutive elections where the GOP establishment has supported the Democratic candidate, over the choice of The People themselves. It is ironic to see this, after just having gone through a Presidential election, where the Democrats rigged their own Primary and ignored the will of The People.
By doing this, they have set a new standard. They have demonstrated that it is OK to vote against Party AND Constituents, when your own personal interests are at stake. That line of thinking opens up a whole new avenue of thinking, and it unlocks the door and paves the way for devastating counter attacks against the establishment on BOTH sides of the aisle.
If one were to sit back and look at the performance and voting records of three Establishment GOP in particular, especially in the light of the most recent Alabama election, one would have no choice but to come to the conclusion that it is Mitch McConnell that thoroughly and completely owns this loss. It was Mitch McConnell that rallied the GOP Establishment to stand against Roy Moore, in favor of an unfounded accusation by a woman that admitted forging her supposed evidence. We all know full well that Roy Moore supported America first, and a Trump Agenda. So I can only sit here and scratch my head at the thought that Mitch McConnell is against American Sovereignty, and against supporting the American People and his own constituents, over his personal agenda of power struggle.
Mitch has handed a Senate seat to the Democrats, to protect his own hide. Think about this for a second. If We The People were willing to sacrifice a Senate Seat to the Democrats, what seat would have been better to lose for the people of the Party? I honestly have to say that I would rather have seen Mitch McConnell lose his seat, than Roy Moore lose the Alabama Senate Race.
Think of the long history Mitch has had of sabotaging Republican efforts, including fighting against the GOP's own Presidential Nominee for President, despite the fact that he was the clear choice of The People. No, here we see a Republican Senator that has now done far more harm than good for the Republican Party.
As a voter …. I just learned which Senators would sell me out in a heartbeat to save their own hide. They have demonstrated it is OK to vote for the Democrat in order to pursue the bigger agenda. I am now thinking that when Mitch runs for re-election, that perhaps we would be better off with a Democrat in that seat, than Mitch McConnell. There are 25 Democrat Senate Seats up for election in 2018. What would happen if we withdrew ALL support from McCain, McConnell, and Graham, and put all of the campaign dollars and efforts into taking 3 of those 25 seats, and hanging McCain, McConnell and Graham out to dry?
Ask yourself if that wouldn't be a better place to be in, than with the swamp we currently have?
One must first break free of the bonds before they can build a new future.
[adrotate banner="24″]

[pt_view id="517b65fj16″]