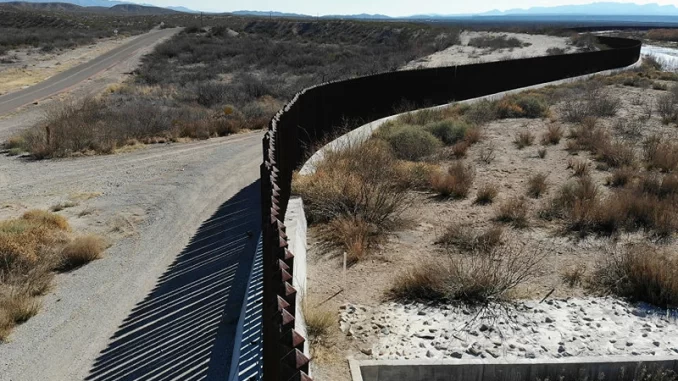 OAN's Roy Francis
9:26 AM – Tuesday, August 29, 2023
A smuggler that has ties to ISIS helped more than a dozen Uzbek nationals cross into the United States from Mexico earlier this year.
Advertisement
According to CNN, the migrants from Uzbekistan had requested asylum and underwent screening by the Department of Homeland Security and were ultimately all released into the U.S. with a pending court date.
Intelligence officials later found that the smuggler who had helped the migrants was part of a human smuggling network that was helping Uzbek nationals travel to the U.S. which also had ties to ISIS.
FBI agents had rushed to locate all the migrants from the group and investigate their backgrounds. Turkish authorities, at the urging of the U.S., arrested the smuggler and obtained information from him to aid the investigation.
When the ISIS link was revealed, National Security Council spokesman Adrienne Watson said that intelligence officials scrambled to "identify and assess" all the migrants who had entered the U.S. with the help of that particular smuggler, meanwhile, the FBI said that no specific ISIS plot has been identified.
"There was no indication—and remains no indication—that any of the individuals facilitated by this network have a connection to a foreign terrorist organization or are engaged in plotting a terrorist attack in the United States," Watson said.
According to intelligence officials, the ISIS-linked smuggler is not believed to be a direct member of the terror group, but is considered an independent contractor who is sympathetic to the group's cause.
The migrants who were smuggled across the southern border are also believed to have no ties to the terror group. However, not all the migrants who were part of the group have been located.
Watson also added that more than 15 of the migrants that have been located remain under scrutiny by the FBI as possible criminal threats.
Concerns have been raised over the recent unusual increase in the number of people arriving in the U.S. from Central Asia in recent months. The Area is not known as a usual source of refugees. Watson told CNN that the Intelligence Community is continually assessing the country's security architecture to be able to best respond to any threats that come up.
"We continually assess our security architecture to ensure that we are best poised to respond to threats to the homeland," Watson said in her statement. "Moreover, we will continue to constantly recalibrate our screening, vetting, and processing of those encountered entering the United States to ensure that we are taking into account the most up-to-date information at our disposal and with an unyielding commitment to protecting Americans and the homeland from the full range of potential threats."
The incident kicked off a series of emergency meetings between top national security and administration officials, along with staff on key congressional committees being informed as well.
Stay informed! Receive breaking news blasts directly to your inbox for free. Subscribe here. https://www.oann.com/alerts