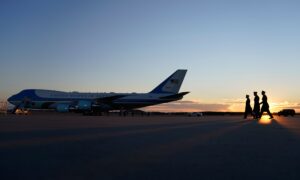 A man is in custody in connection to a security incident at Joint Base Andrews on Friday.
"An individual in a vehicle drove up to the main gate of Joint Base Andrews around 4:45 p.m. and told base security forces that he had a bomb in his vehicle," Zack Baddorf, a spokesperson for Air Force's 316th Wing, which operates the base, told The Epoch Times in an email.
The base's main gate was shut down and the man taken into custody and questioned by base security forces and partner law enforcement agencies, Baddorf said. The rest of the base, which is home to Air Force One, the aircraft that carries the president, remains operational.
A U.S. Air Force Explosive Ordnance Disposal (EOD) team member, wearing a protective suit, and an EOD robot, checked the tan colored sedan for an explosive device.
"Bomb-sniffing military working dogs did an initial sweep of the vehicle and did not find anything relevant," Baddorf said.
Partner law enforcement agencies from Prince George County shut down traffic on Allentown Road outside the main gate to assist with the incident. Prince George County police did not immediately respond to a request for comment.
Earlier this year, an intruder gained access to Joint Base Andrews on Feb. 4, walked around for several hours and accessed military aircraft, WUSA9 reported. On that occasion, a sharp-eyed airmen reported the individual, who was reportedly wearing a bright red or pink cap, because he didn't seem to fit.
"To be frank, I'm just being honest, we had no idea we had an unauthorized civilian on the base," Sami Said, the Air Force inspector general, told reporters at the time. "He could have roamed around for a lot longer had it not been for that particular airman that figured out he doesn't quite fit."
This situation is developing. Check back for updates.