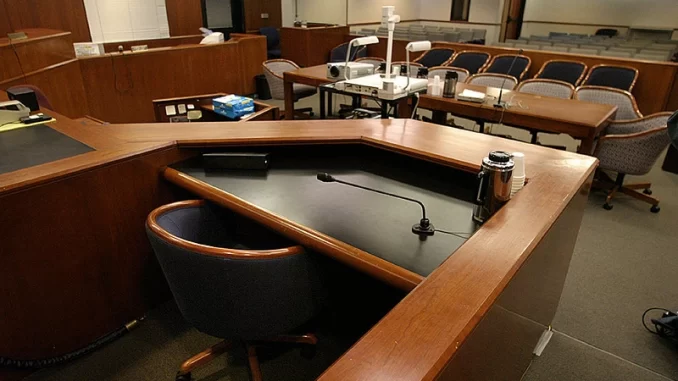 OAN's Roy Francis
9:00 AM – Monday, May 30, 2023
The federal trial of the suspect in the Tree of Life synagogue shooting, the deadliest anti-Semitic attack in United States history, which killed 11 people and injured seven others in 2018 began on Tuesday.
Advertisement
Robert G. Bowers, the alleged shooter, faces 63 hate-crime and gun-related charges in the mass shooting which took place during a morning prayer on October 27th, 2018. Other charges include 11 counts each of obstruction of free exercise of religion. If found guilty, the 50-year-old faces the death penalty.
Bowers had allegedly stormed the Tree of Life synagogue in 2018, and gunned down 11 people. According to investigators, after his arrest Bowers had said that he wanted to kill Jewish people, and that he had also expressed anti-Semitic comments at the scene of the crime and online.
The shooting had taken the lives of members of three congregations that shared the building at the time of the shooting, Dor Hadash, New Light, and Tree of Life.
Members of all three synagogues arrived at the courthouse on Tuesday riding together in a school bus and went in. Families of the victims of the shooting are reportedly divided on whether the death penalty should be pursued, however, most have expressed support for it.
12 jurors and six alternatives were chosen to hear the case against Bowers after a month of questioning of over 200 jury candidates. Prosecutors are expected to show jurors the incriminatory statements that Bowers had allegedly made to authorities, and the anti-Semitic comments that he had made online, which they say proves that the shooting was motivated by religious hatred.
Among other evidence that prosecutors are expected to present are a Colt AR-15 rifle and three Glocks .357, along with autopsy records, and 911 recordings of the two calls from victims who were ultimately killed in the shooting.
Bower's defense, which is led by defender Judy Clarke, had filed motions that he suffers from schizophrenia and epilepsy and had offered to have Bowers plead guilty in exchange of a life sentence in prison instead of the death penalty, however prosecutors rejected the offer.
The guilt phase of the trial is expected to last at least three weeks, if Bowers is convicted then the trial will enter the punishment phase, in which prosecutors will seek the death penalty. The second phase of the trial could take up to six weeks according to court officials.
If found guilty, the jury will have to unanimously vote in favor of the death penalty, otherwise he would receive a mandatory life sentence.
Those who lost their lives were Richard Gottfried, Joyce Fienberg, Rose Mallinger, Jerry Rabinowitz, Cecil and David Rosenthal, Bernice and Sylvan Simon, Daniel Stein, Melvin Wax and Irving Younger. Andrea Wedner, Rose Mallinger's daughter, and Dan Leger survived their gunshot wounds.
Stay informed! Receive breaking news blasts directly to your inbox for free. Subscribe here. https://www.oann.com/alerts