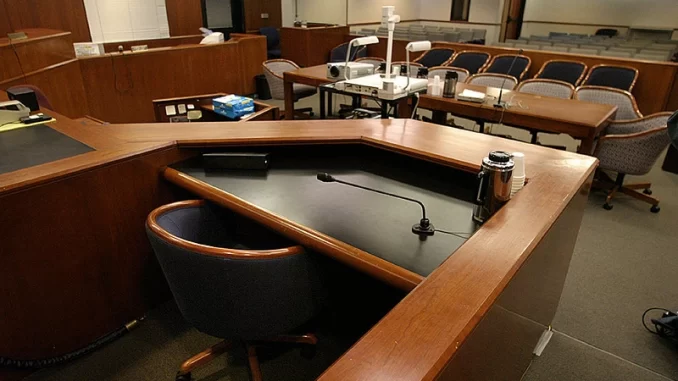 OAN Roy Francis
UPDATED 2:13 PM – Friday, April 7, 2023
Alameda County District Attorney Pamela Price has attacked Judge Mark McCannon demanding that he be disqualified from presiding over any criminal case moving forward.
In March, McCannon had rejected a 15-year plea deal that was brokered for defendant Delonzo Logwood who was accused of a triple murder.
The deal involved Logwood having to plead no contest to a voluntary manslaughter charge for the fatal shooting of 22-year old Eric Ford in 2008. In exchange the two other murder charges against Logwood, the killing of 24-year-old Zaire Washington and 30-year-old Richard Carter, that took place in the same year would be dropped. The result would have been Logwood serving 15 years instead of the original 75 years to life sentence.
During the hearing, Logwood had offered an apology for his alleged crimes, however McCannon still rejected the deal.
The judge backed his decision saying that the plea deal was "too lenient."
"You can't think that an apology will make this all better. What are you sorry for if you didn't do anything?," The judge said according to The Mercury News.
The judge then scheduled the trial to begin April 17th.
In response to the judge's decision, District Attorney Price shared a pre-taped video statement on YouTube arguing that the judge had "overstepped his boundaries as a judicial officer and has created a firestorm of prejudicial comments that do not, in my view, serve justice."
"The judge is supposed to be an impartial referee managing cases that come before him," she said. "Because of Judge McCannon's inappropriate comments and conduct on two separate occasions, my office will file a motion to disqualify him from hearing any criminal cases being prosecuted by our office."
In the video, the George Soros-backed prosecutor, who had campaigned on reducing prison sentences in her jurisdiction, said that she will push for the removal of judge Mark McCannon from every criminal case in Alameda County.
Defense Attorney Michael Cardoza, whose clients have previously benefitted from Price's leniency, questioned the actions of the District Attorney and the consequences that they are having in the community.
"It kicks victims to the curb and it puts those type of criminals back into the community where they came from," he said. "I think people outta start paying attention because by the time you all wake up, its going to be too late."
Retired Santa Clara judge Ladoris Cordell had agreed with McCannon's decision to reject the plea deal, saying that she too would've rejected it.
She went on to explain that Price does have the ability to remove McCannon from criminal cases if at the beginning of each case her office files a motion claiming that they do not believe the judge is not impartial.
Cordell said that removing the judge would have major consequences for the justice system moving forward, and the move is very "chilling."
"She has basically reduced the number of judges in alameda county that can preside over criminal cases at time when criminal cases are backlogged in the courts," Cordell said. "I'm very concerned about that. I think that it is inappropriate use of the authority and power of the DA's office. I hope that perhaps this can be undone and not be a precedent for every time someone disagrees with the DA."
McCannon replied to the statement from Price, in which she said that she will provide more details at the proper time, by saying that just because he had disagreed with her, does not mean he is impartial.
"I did not go to the press and make any statements," McCannon said in court Wednesday. "Because I didn't agree with you doesn't mean I'm biased."
McCannon denied the motion to remove him from the Logwood case, and Logwood's attorney have stated that he plans to file for an appeal.
Stay informed! Receive breaking news blasts directly to your inbox for free. Subscribe here. https://www.oann.com/alerts