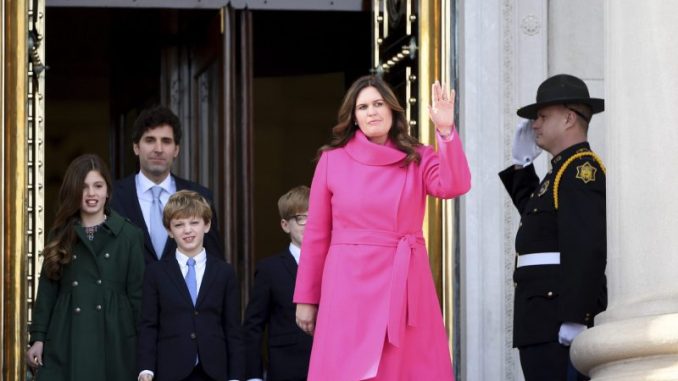 OAN Roy Francis
1:56 PM PT – Saturday, February 25, 2023
Arkansas Governor Sarah Huckabee Sanders has signed a bill that will restrict "adult-oriented performances" in her state.
The Republican Governor has signed a new law which adds restrictions on "adult-oriented performances." The law was originally meant to classify drag shows the same as adult strip clubs and theater.
The Bill turned law that signed by the Republican, defined "adult-oriented performances" as a performance that "features nudity or semi nudity, real of simulated sexual activities" as well as any activity that is intended to appeal to "prurient" interest.
Under the new law, adult performances are banned from all public property and from receiving public funds as well. The bill also bans minors from attending, or participating in any adult show within the state.
The original presented version of the legislature was worded differently, specifically naming drag shows as adult-oriented businesses. This would have banned all such shows from being within 1,000 feet of any public schools, churches, and libraries. However, the final version that Sanders signed, does not mention drag shows in particular, or gender identity.
This eased some of the opponents of the bill, although Democrats in the Arkansas House said that the bill was still worded too vaguely. Some decried it as an attack on the LGBTQ community.
Along with Arkansas, Tennessee lawmakers passed a bill that also restricts drag performances in public or in front of children. The bill had passed on a vote of 26-6 with only democrats opposing it Fox News reported.
We don't want to have the door open that they can go see advertent nudity and sexual acts or the depiction of sexual acts," Republican Senator Becky Massey (R-Tenn.) said. "I'm sorry, that's not what Tennessee is about."
Sanders is working towards the agenda that she campaigned on, which included making the state was "educating kids properly" and "not indoctrinating them with the left's agenda."