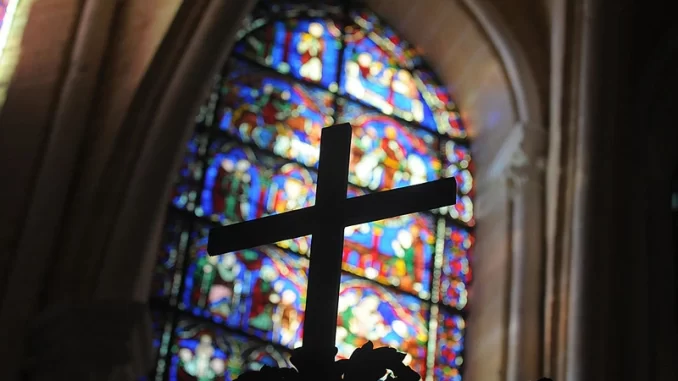 OAN Roy Francis
1:04 PM PT – Friday, February 17, 2023
A nonstop Christian service in Kentucky has gone viral on the internet, drawing in thousands of visitors as far as from Singapore.
The event started as a routine chapel service at Asbury University, a Christian college in Wilmore, Kentucky. At the end of the service, a few students informally gathered and started worshipping by themselves. More people joined and the worship and prayer service went one for 24 hours a day since February 8th.
Following the service that day, the gospel choir had sung on stage while the students stayed after the service. By evening time, more and more people kept joining the worship.
"It has absolutely been social media that is the mechanism that people found out about this," said Mark Whitworth, Asbury University's vice president of communications.
University President Dr. Kevin Brown had said that the college had purposefully not advertised the event to the public.
"The university made an intentional decision not to publicize this because we wanted to place an abundance of respect towards the experience of our students," Brown said.
Videos on social media had garnered millions of views and likes, with the videos coming primarily from attendees. The school had not publicly advertised or marketed the event.
Many of the attendees are calling the event a "Spiritual revival" and said they were drawn by a spiritual force that they felt at the event and felt like they needed to be there.
Online videos have drawn the attention of thousands, with many of the people making their way to the event from around the country and even as far as Canada and Singapore.
Tuesday night, February 14th, had seen the largest number of visitors with 3000 people in attendance. People had packed into the main chapel and four other overflowed facilities, those who could not enter the buildings worshipped from the streets.
Many people had taken the trip immediately after hearing about the event. Nick Hall an attendee who had traveled from Minneapolis thanked Gen Z for starting and sustaining the event.
"They're the ones that started it, they're the ones that sustained it, and they're the ones that have been on the platform the whole time," he said.
Asbury University had previously been the location of another similar gathering in 1970, although this gathering is the longest lasting one of its kind.