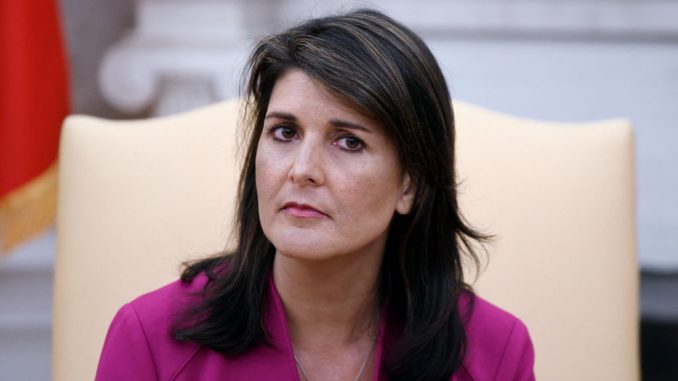 OAN Roy Francis
7:16 AM PT – Wednesday, February 15, 2023
Taylor Budowich, who served as a spokesman for former President Donald Trump, and current MAGA Inc. executive, released a statement about Nikki Haley and her announcement for the 2024 presidential bid.
Tweeting out from the MAGA War Room page on Twitter, Budowich calls out Haley for being a Never Trumper before landing a role in the Trump Administration.
He also said that she had left the Trump administration early to "go rake in money on corporate boards" and that she is a "career politician whose only commitment is to herself."
Haley had also said that "It's time for a new generation of leadership" In her announcement for which Budowich also called her out on.
"Now, she's telling us she represents a 'new generation'," Budowich wrote. "Sure just looks like more of the same, a career politician whose only fulfilled commitment is to herself."
Nikki Haley had served in the Trump administration until 2018, being nominated by Trump to be an Ambassador to the United Nations.
After the events of January 6th, Haley had distanced herself from the Trump camp, and had even went on to condemn Trump for the events that took place.
Trump had also commented on the possibility of Haley running against him in 2024 and said that she is "overly ambitious."
After her formal announcement that is scheduled to be made in South Carolina on Wednesday morning, Haley is set to kick off her campaign by first visiting New Hampshire, and then Iowa, the two states that kick off the Republican presidential nominating calendar.
More prominent names are expected to join the presidential nomination race for 2024, the top of which is Florida Governor Ron DeSantis.
The Florida governor had won his recent reelection by nearly a 20% margin, the largest margin a governor has seen in over 40 years, which only fueled the expectations of his announcement for a presidential nomination in 2024.